Xiaomi Recently annouced Xiaomi Mi 8, which has became a hot seller among today's Xiaomi smartphones. If you are looking for the best Android phone, Xiaomi Mi 8 will be the best option. There are series of amazing products such as the Mi 8 SE, Mi Band 3, but the Xiaomi Mi 8 stands out. What's the highlight of Xiaomi Mi 8? Let's find out the answer.
Appearance and Storage
Xiaomi Mi 8 is available in two colors(Black and White). The first impression of Xiaomi Mi 8 is like an iPhone X copy, because its notch has the same design, and the back is very similar. As we all know, today's cellphones almost looks like the iPhone X. Compared with the other full-screen Xiaomi smartphones, Mi 8 uses a mainstream display. The 6.2-inch Full HD notched-display on the Xiaomi Mi 8 offers excellent visuals and is a treat for all those who love watching videos or playing games. This phone feels premium in the hands and looks wonderful too with that beautiful aluminium frame. Besides, Xiaomi also added a "R angle" on the body of Xiaomi Mi 8, which is supplemented by a rounded screen design, making the four corners of the aircraft very harmonious.
In terms of RAM and storage, Mi 8 carries 6GB RAM paired with three storage configuration- 64GB, 128GB and 256GB inbuilt storage. Also, the good thing is that there is a dedicated memory expansion slot.
Cameras
In recent years, as consumers pay more attention to phone photography, Xiaomi began to work hard on the performance of their cell phone's camera since MIX 2S, so does Mi 8. In terms of specifications, the Xiaomi Mi 8's rear camera adopts the same camera module as the Xiaomi MIX 2S. The main camera sensor is the Sony IMX363, with a pixel size of up to 1.4um. It supports Dual PD's dual-core high-speed focusing technology from SLR.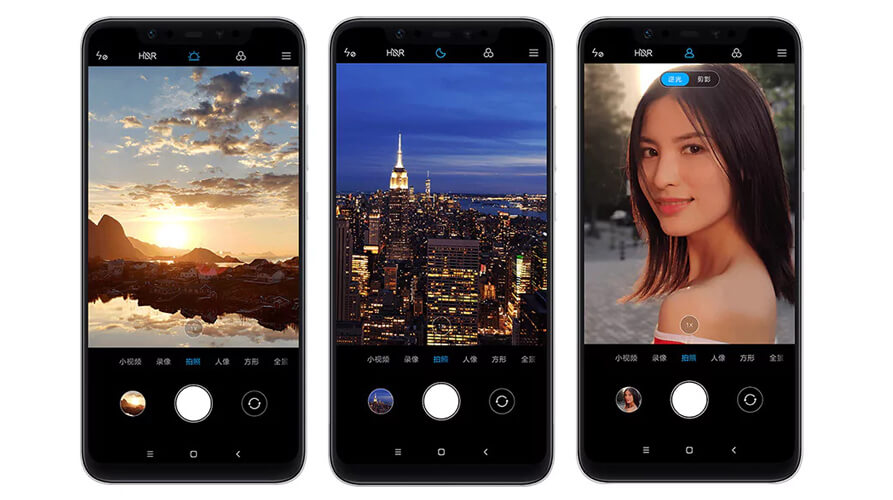 Mi 8 comes with a 12 MP f/1.8 plus 12 MP f/2.4 dual camera setup and it's got AI, like most other things these days. The Xiaomi Mi 8's rear AI dual-camera can intelligently identify up to 206 kinds of scenes when taking pictures. Plus, it supports real-time optimization and adjustment.
The front-facing camera uses a 20MP sensor, which is the world's first camera supporting AI micro plastic beauty. Besides, Mi 8 also supports infrared unlocking, that means this phone can identify your face even in a completely dark environment.
Battery Life
Fuelled by a big 3,400mAh non-removable cell, the Xiaomi Mi 8 is tipped to last for more than a day even for heavy users. Also, the Xiaomi Mi 8 ships with support for fast charging. It seems that Xiaomi Mi 8 is an excellent smartphone in terms of battery life, Mi 8 ensure a performance of up to 16 hours in continuous video playback.
Ultra Precision Positioning
Xiaomi Mi 8 is the world's first dual frequency GPS mobile phone with ultra precision positioning. Xiaomi Mi 8 first dual-frquency GPS handset in the globe, supporting the L1+L5 double-frequency positioning, dual frequency signal working together, in urban complex environment, effectively improves the navigation accurancy.
So, every highlight to the Xiaomi Mi 8 4G Smartphone not only surprise us by battery life and design, but perhaps for having perfect performance of its camera. Now Mi 8 is a hot seller in Xiaomi's products because of its good performance, if you are preparing to buy a new cell phone, choosing the Xiaomi Mi 8 will be a better choice.
Related products>>  
Related articles about Xiaomi products>>
Much-anticipated Xiaomi Mi Band 3 Is Coming
Huami AMAZFIT Cor Review | A Unique Sports Smartband with Color Screen