Honor is a relatively good brand made by Huawei new release, including his technology. His own research and development of chips is worthy of Chinese pride. As for the brand of Xiaomi, we all know that "being born with fever" is the product concept of Xiaomi. The brand of Xiaomi is quite influential in China.
Xiaomi and Huawei have both already released the 4th generation of smart bracelets (Huawei has launched the Honor Band 5 recently), so which one of them is your first choice?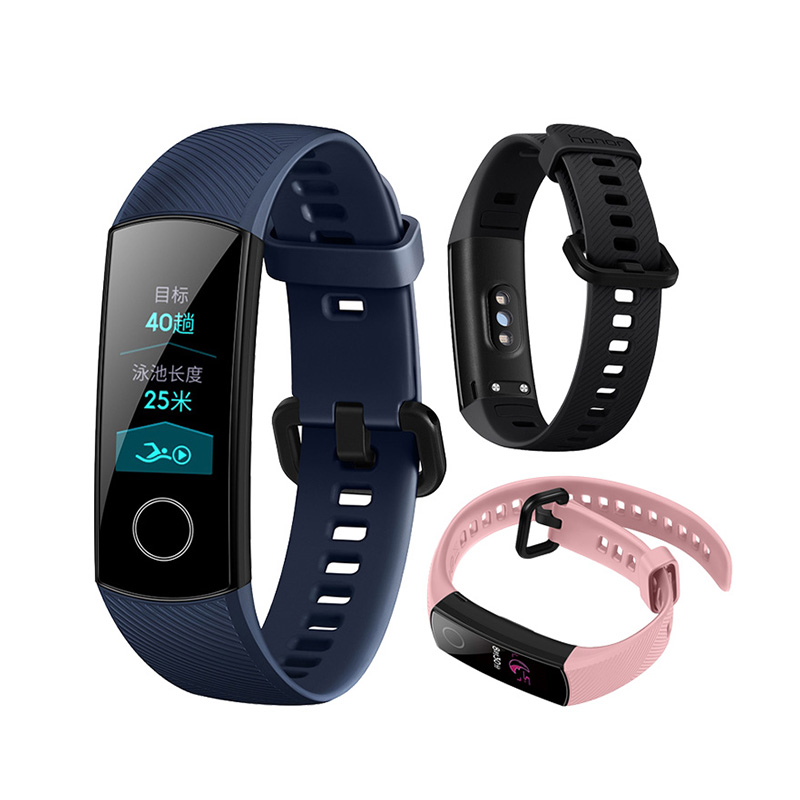 Appearance
For the appearance, Honor 4 has three colors: Meteorite black, midnight blue, coral pink. And Mi band 4 has only one color, yes, it is classic black. But you can change the color via mi band 4 replacement wristband, and this time except black, other 8 choices are available.
Screen
The screen of Huawei Honor 4 uses the amoled true color screen, the same color display technology as the mobile phone, even in the sun can be clearly visible. The 2.5D glass is more scratch-resistant, with full-screen touch, and the home button is designed on the screen. It has a one-button return effect, which makes the operation smoother. The 0.95-inch large-screen screen can display up to 45 Chinese characters.
Meanwhile, Xiaomi's screen is a new screen that can be touched by OLED. The black screen design is like a water droplet on the wrist, which looks very full.
Function
a. Sport
For the sport field, Honor 4 supports 50 meters of waterproof, also equipped with a six-axis sensor, can also automatically identify the main swimming position (including freestyle, breaststroke, backstroke, butterfly, etc.), record the speed, number of turns, distance, calories, etc., whether it is washing hands It is still useful to wear it.
It also supports a rich sports mode, with 7 major exercise modes, such as: outdoor running, indoor running, outdoor walking, outdoor riding, indoor cycling, free training, swimming pool, etc., can also send these data to the circle of friends for ranking.
Xiaomi coupon code Band 4 has 50 meters waterproof function directly, so you can wear it every day, whether it is swimming or surfing. It is more convenient when you exercise, and your daily life is a lot less trouble. By the upgraded once again, the step number algorithm allows you to calculate your daily effort.
b. Health
The new 3rd generation heart rate technology is adopted in Huawei Honor Band 4, which is a professional optical device season processing chip, AL assisted algorithm model, so that the measured heart rate is more accurate, and also supports heart rate measurement, 24-hour real-time precision guards your heart rate health.
Xiaomi 4 is guarding your health all day long, no matter what you are doing, he can accurately monitor, such as step counting, heart rate, sleep quality monitoring, but also sedentary reminder, and Tar heart rate sensor can directly be accurate Read 24-hour heart rate changes and monitor your heart rate health at any time.
Summary
Personally we feel that the price of the two is similar, Xiaomi Band 4 is indeed more beautiful, Huawei Honor 4 is not so good, if you want to choose a powerful feature, choose the Honor Band 4, in this function we feel that the Honor Band 4 is better, including his exercise, waterproof, heart rate or better than the Xiaomi Band 4, but the function of the Xiaomi Band 3 is relatively simple.
Related products you may like:
mi band 4 chinese version preis
mi band 4 nfc version preis
Similar articles you may like:
How to Choose a Smart Band That You Need
Review: Xiaomi Mi band 4 will bring more battery and color display