Zeblaze is back in the market with the new version of Vive smartwatch. It is Zeblaze Vibe 3, a sports smartwatch with many added advanced features. The biggest selling point from Zeblaze Vibe 3 is its long battery life. According to Zeblaze, this smartwatch can last up to 24 months with moderate use and finally, in standby mode will resist up to 33 months. Such a long battery life is really amamzing as a smartwatch that you can say it has the longest running time when comparing to other smartwatches in the market today. What other highlights does this smartwatch have? Keep reading to find out!
Design and display
The Zeblaze Vibe 3 is designed as a rugged smartwatch. Its body is a durable metal fastened with screws, making it tightly sealed. The watch case itself is also made of premium 316L stainless steel with a drilling carbon coating and a dial size of 50mm. The good build qulity of Zeblaze Vibe 3 makes it immune to extreme temperatures, budges, and crashes. It has a removable silicon strap with stainless steel buckle which is also dustproof and waterproof. Its strap has dimensions of 26 x 2.5 cm and is made of TPU, so it will be as resistant as flexible, assuring its durability over time. It has 4 buttons, which are distributed as follows, 2 on its left side and the other 2 on its right side.
In terms of display, the Zeblaze Vibe 3 smartwatch uses a big 1.24-inch FSTN display, which is a power saving display, providing the Vibe 3 a much longer battery life. On the other hand, the bid display gives us more sharpness and contrast. on the top we find a Corning Gorilla Glass 4 to protect the display, that gives greater resistance against shock falls and scratches. The watch's weight is 0.078 kg, so it will be really comfortable to wear at all times. Overall, the Zeblaze Vibe 3 has a masculine look and with premium design.
Hardware and features
Zeblaze Vibe 3 comes with an SI-BW03 processor, which is low power and allows our battery to perform much more. As for RAM and ROM, they both have 128MB.
The Zeblaze VIBE 3 smartwatch has the basic features such as call and message notifications (via icon notifications). Other information that you can check directly on the smartwatch are steps taken, calories burned, distance counter, alarm and timer.
The Zeblaze VIBE 3 can be synchronized with our smartphone using the support app, which we can download from the Google Play store or Apple Store, so it will be compatible with both Android and iOS operating systems. On the support app, you can activate the remote control for camera and set up alerts. By being synchronized we will have access to new functions, which allows us to receive all incoming notifications from our terminal in this Smartwatch.
Another selling point for Zeblaze Vibe 3 is its durability. The Zeblaze Vibe 3 does indeed come with an IP67 certification, which means that you can wear it underwater at up to 50 meters / 164ft. So no more worries about getting it damaged in rainy days, while swimming or sweating on a long run.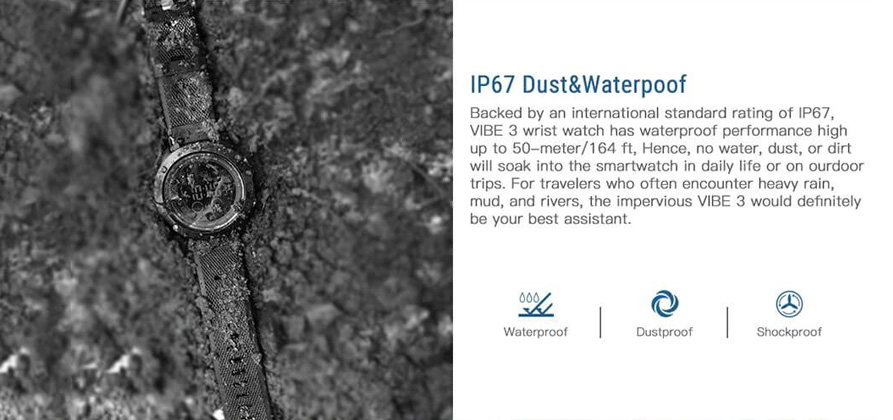 Battery
The Zeblaze VIBE 3 comes with a CR2450 battery with a capacity of 610mAh, which has 33 months of battery life that is almost 3 years. It is a huge advantage for a device of this price range. So long battery life is the biggest highlight of Zeblaze VIBE 3.
Conclusion
In conclusion, the zeblaze vibe 3 smartwatch is perfect for those who are looking for a rugged designed smartwatch without spending a lot of money. Long battery life and with a premium look, this is what the Zeblaze Vibe 3 has. If you want to buy this affordable and quality smartwatch, check it out at Gearvita.