Nitecore has launched a brand-new LED Flashlight recently, which is called Nitecore EC23 LED Flashlight. Nitecore's new EC23 Flashlight is a upgrade version of the previous EC20 and featuring a new LED. EC23 has a simple look in terms of user user interface, and has almost double the output compared with EC20. Let's find out more details about this flashlight.
Design
The EC23 is a slim profile single 18650 flashlight, which has a small and compact body. Its body is designed with exquisite skid-resistant Diamond knurling which offers an extremely comfortable grip, and easy for one-hand operation. Its durability is very good because it features aero grade aluminum alloy with HAIII military grade hard-anodized finish that resists scratching and corrosion. There is a tail lanyard on the body that is used for freeing your hands. The light can tail stand nicely. The EC23 flashlight comes with a single side switch for controlling the 5 brightness levels and 3 special modes. With the switch, you can switch any mode very easily. Moreover, there is a power indicator beneath the power switch for notifying the remaining battery level.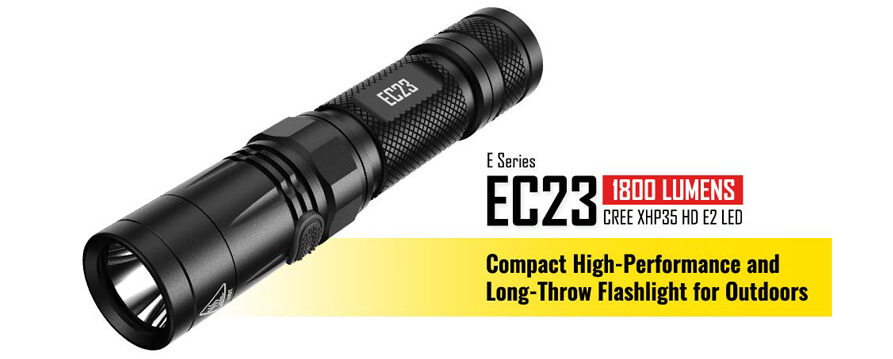 Battery
It is so nice that the EC23 flashlight is compatible with different kinds of batteries. It is powered by one 18650 battery to last for 330 hours in ultralow mode. It's also compatible with 2 x CR123 or 2x RCR123 batteries. You can get the high drain battery if you want that full 1,800 lumens but it works with any 18650 lithium ion battery not just high drain ones. And you can even use a CR123 batteries.
Performance
Beam: The EC23 flashlight has the CREE XHP35 HD2 LED that can ramp up to 1,800 lumens. That's nearly doubling what the EC20 was able to do. That's the power of using a whole different LED. The Max beam intensity up to 16,200cd and beam distance up to 255 meters, which is enough for your daily use. As for light color, it is still sticking to cooler tints as most of Nitecore lights.
The flashlight offers 5 brightness levels that are Ultralow, Low, Mid, High, Turbo. Turbo is an instant burst. The runtime on Turbo and High are about 2 hours and 30 minutes and 2 hours and 50 minutes, respectively, with setting it and leaving it alone (no resetting of mode to try to regain the highest brightness). The light appears to be temperature regulated with experiencing max temp of ~110°F (43°C).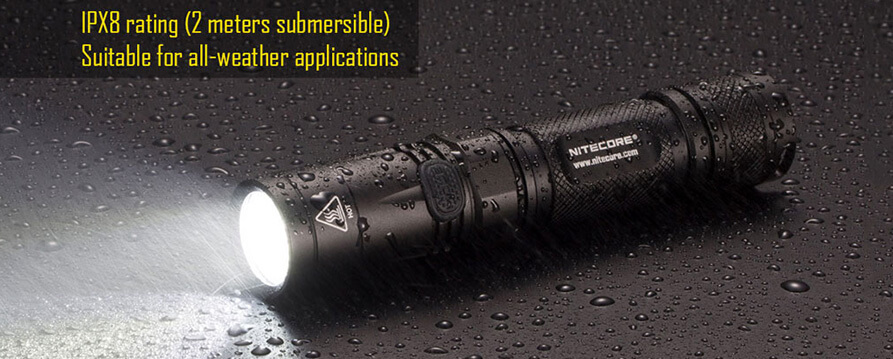 Durability: The flashlight is definitely very durable. Nitecore's flashlights are all have impact resistance. IPX8 is about the best rating you can expect for a flashlight as far as it's waterproofing. This EC23 light is submersible up to two meters. That means that it's not just weatherproof, that means you could drop it into most pools and its warranty is still good.
Operation: The Mode switch is raised and easy to find in the dark. All brightness levels and modes are operated by the all-in-one control switch that located on the side of the flashlight. To select a desired brightness level, simply release the switch when what level is displayed. That is very convenient for everyday use. Besides, this flashlight provides an intelligent memory function to ensure direct access to the previously used brightness level when the EC23 is reactivated.
Conclusion
Overall, ec23 flashlight is pretty good that is perfect for everyday use. This flashlight is high quality that features very bright, very durable and easy to operate. With that compact body, EC23 flashlight has a high performance that can reach up to 1800 lumens output. If you are looking for a powerful flashlight that are simple to use and small, the EC23 might be the best one. You would not regret getting a light like this. Go for it!