The Yi Technology has announced its newest release, the Yi 4K+ Action Camera. If you know what a GoPro is, then you will know what the Yi 4K+ is all about. It is a perfect choice for you to buy the Yi 4K+ as a sports action camera, because it is much cheaper than a GoPro. The YI 4K+ includues a number of new features that has gathered lots of fans since its release. This new action cam is designed with Ambarella processor which allows 60fps at 4K Resolution, making it the first 4K/60 fps action camera in the market today. Next let's check it out for more datails.
Design
The Yi 4K+ Action Camera is rectangular little 65 x 42 x 30mm body hosts a 2.19-inch colour touchscreen coasted in tough Corning Gorilla glass. In terms of the touchscreen, it is large with excellent quality. It's also contrasty with a great viewing angle, and it's extremely sensitive to touch. On the front side of this device, you will find ultra wide lens that offer fish eye look to make your recordings more efficient. The top part has only one button, which is used for turning it on, recording and taking photos. The Yi 4K+ has a single button on the entire device and a USB Type-C port on the side. USB-C also provides easy connectivity to external microphones with impressive audio quality. On the bottom of the action camera is an access door for its 1400mAH battery and MicroSD slot, as well as a standard tripod mount.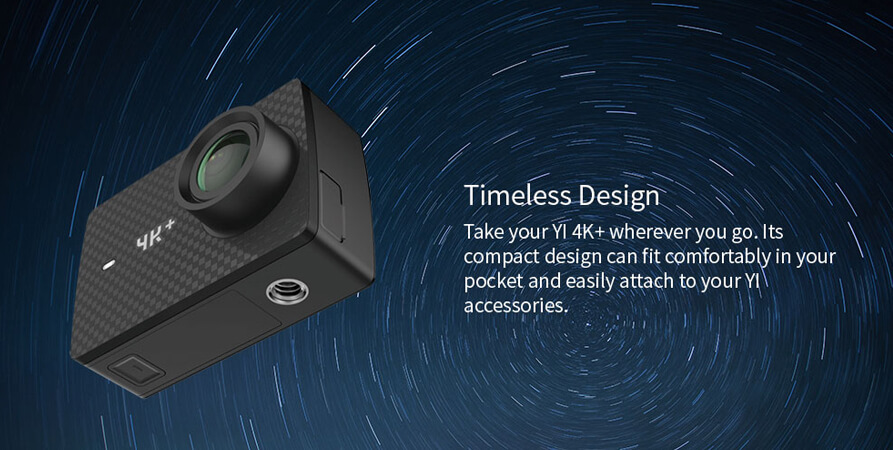 Image quality
The 4K image on the Yi 4K+ looks great. It comes with an IMX377 12MP image sensor, which have been praised for its image quality. Regardless of the mode you're shooting in, the image stays considerably sharp from edge-to-edge. Yi 4K+ is designed with 12MP resolution and it can provide wide angle view with its full wide angle FOV. Further, this device offers fisheye correction feature and time lapse recording option. YI 4K+ packs many advanced technologies inside such a tiny camera, that is really amazing.
Video quality
This action cam's video quality is excellent. The 4K video is amazingly crisp. It's so sharp there is zero amount of blur. Powered by a quad-core ARM Cortex 64-bit processor and 2GB of RAM, the Yi 4K+ shoots video in the h.264 format at up to 135 megabits per second. As we mentioned above, it is the first action cam to offer 4K video at 60 frames per second (fps). That is really amazing. Besides, the Yi 4K+ is well known for its clear and loud sound system, it can easily gather deep sounds from environment. This device also offers various resolution settings with added frame rate variation options. You can also record Full HD 1080p videos at 120fps, which is quite standard with the flag ship action cameras nowadays. It has also got a next generation image stabilization system. It can offer you impressive electronic image stabilization service even at 4K when device is tuned to 30fps frame rate. With this advanced stabilization support, it is much easier to record videos on most of environments.
Battery life
In tеrmѕ оf bаttеrу lіfе, the Yi 4K+ іѕ helped bу іtѕ lаrgе 1400mAh bаttеrу. This camera can easily run up to 73 minutes with 4k settings. If you are satisfied with low resolution results then you can even enjoy higher recording time of the cam. The 1080P and 2.7K settings can serve you up to 2 hours of using. That is powerful in such a tiny action camera.
Connectivity
Yi 4K+ is designed with built in Wi-Fi abilities so that users can make direct connections with smartphones. Just pair the Yi 4K+ with your phone, open the iOS or Android app and you'll have full control over the camera from a distance. It allows users to transfer their videos and photos from camera to smartphone directly.
Conclusion
All in all, the yi 4k+ is a great action camera that packs many advanced features. It has a great image quality, good battery life and much more. Its amazing video quality makes it stand out against all competitors in the market today. What's more, It is much cheaper than a GoPro camera. With such excellent performance, the yi 4k+ is a perfect choice as your new action camera.