Are you looking for cool lamp for your desktop? Don't look anymore because there is the best one in the market - the new Xiaomi Smart LED Desk Lamp. Let's get into it and see why it is so good.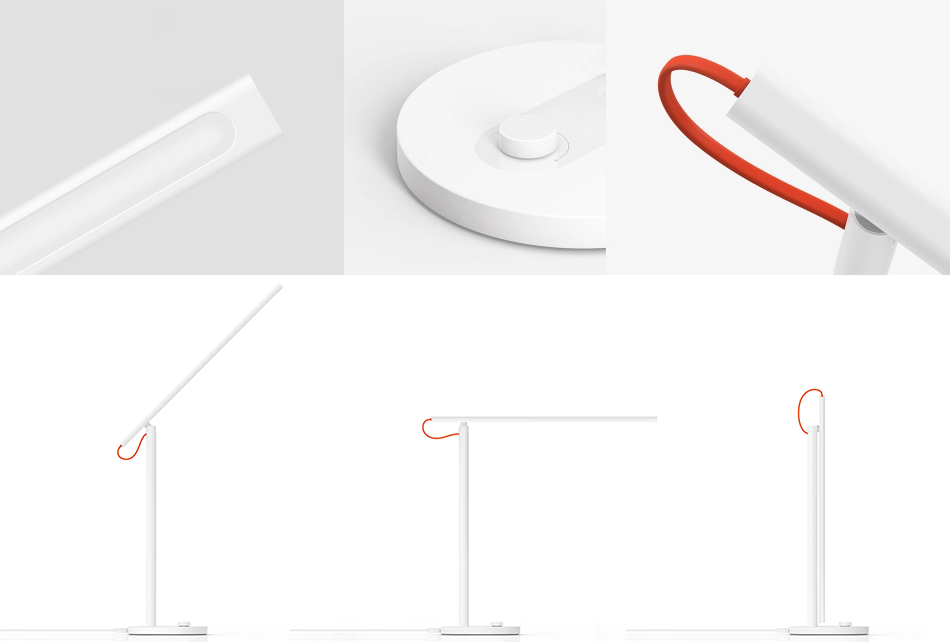 The mi desk lamp features a surprisingly nice looking minimalistic design. It has an all-white exterior, consists of  two metal rods made of aluminum, one is fixed to the stand while the other is adjustable and only a short orange cord between the 2 rods. The latter rod holds the LED strip lights and you can easily rotate it from the upright position up to any desired angle. The base is made out of quality matt plastic, which does not attract any fingerprints. After mi lamp is folded up, it is easy to hold the lamp and the pillar, and you can avoid friction between them. It looks clean and sleek, you could easily place it everywhere you like and even if you put it on the table, it can also be a wonderful decoration. 
The stand has a small footprint and there is only one knob at the base. With the simple, intuitive control, you can easily press on the knob to turn on/off the lamp, rotate it to adjust brightness, press and rotate to change color temperature, and double click to turn on focus mode.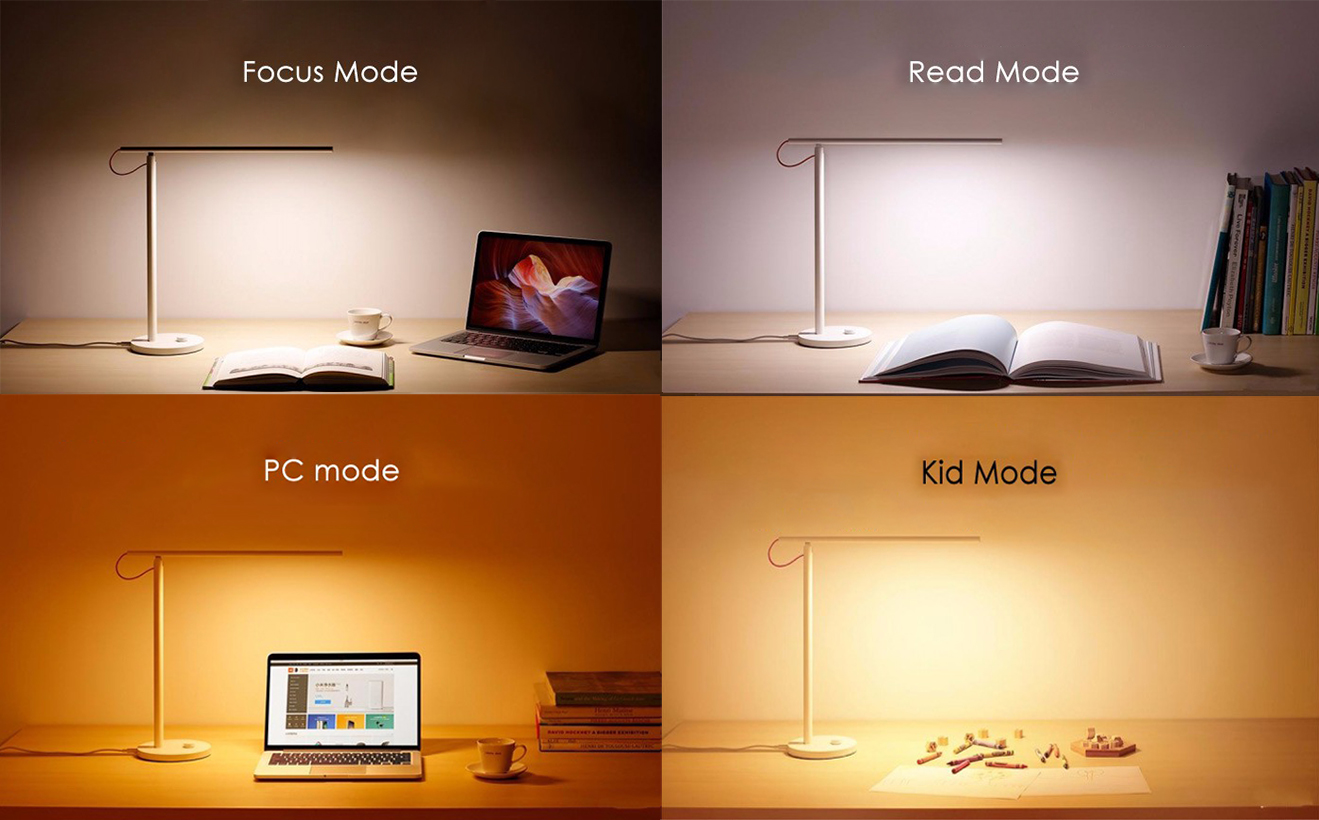 Mi LED desk lamp comes with a patented optical design that combines numerous light reflection and refraaion, producing light that is close to natural lighting. Passes through a RC filter and a light dimming chip which produce a relatively flat EX signal that ensures constant current to the LED lamp beads, so the flickering is reduced significantly. Even in cases where slight flickering occurs, It is being reduced to alleviate eye fatigue and lowers the chances of the user suffering from myopia. The lamp is designed to dissipate heat better, ensures uniform luminance, and has a longer lifespan. 
The Mi lamp comes with four lighting modes for fulfill every need of yours: focus mode, read mode, PC mode and kid mode. In focus mode, users can set up a "focus time" and "rest period", each completed a "focus time" lamp, the lamp will remind the users to take a rest via "breathing light", which helps users improve work efficiency, reduce eye fatigue. Read mode provides users with a more neutral color temperature (4000K) and 100pct brightness, which improves readers' attention as well as prolong reading time without tiring. Blue light from computers can be damaging to your eyes, 2700K color temperature PC mode is designed to reduce the proportion of blue light when using computers, protecting users eyes. Lastly, since the eyes of children haven't developed completely and can be easily hurt, kid mode designed for children, has passed the Biosafety certified to meet the latest safety standards, silently protect the children from damaging eyesight.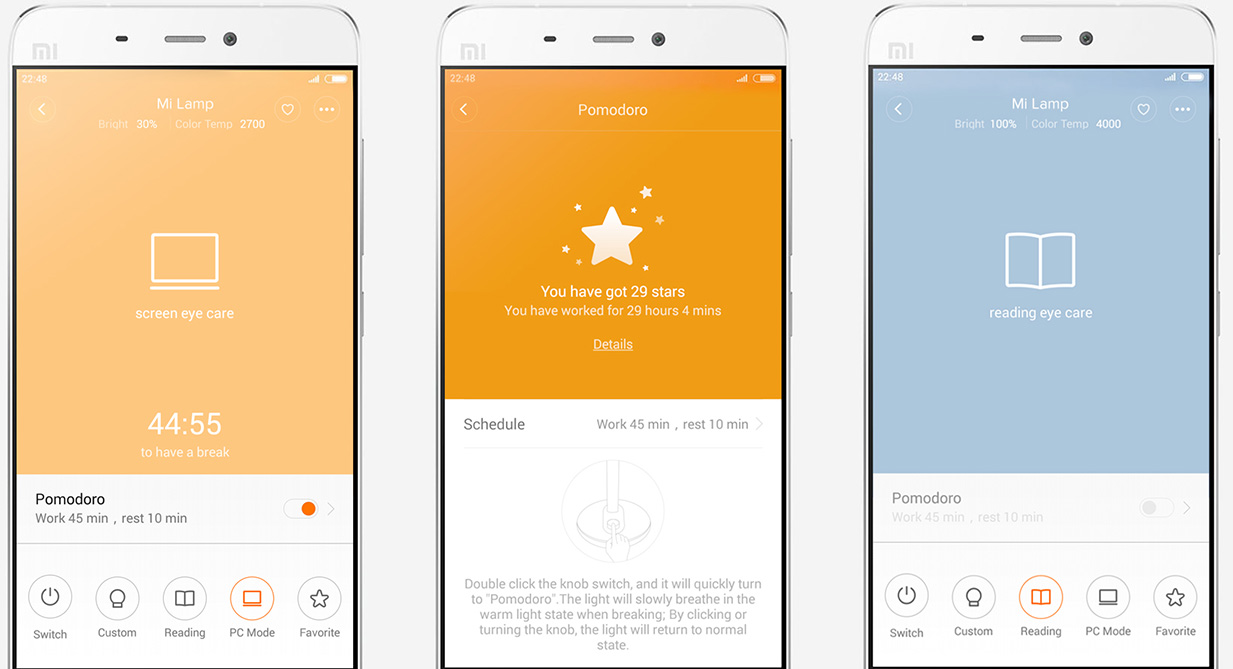 Further, you can set all your lighting needs via the connected Mi smart home App which is available on iOS and Android, connect your mobile phone and the smart desk lamp to the same Wi-Fi to be able to achieve the connection. Within the app, you can manually adjust the brightness and color temperature and select from the pre-set reading and PC modes. According to what you have chosen, you can see that the brightness of the lamp changes. For example PC mode is a soft light and read mode is a bright light. Though pomodoro mode, you can set for how long you will work and when to make a brake, is actually a pretty good feature. If you turn it on, the lamp will start flashing every 45 mins to remind you that you have to rest your eyes. It is very good if you forget to rest in your office or home when reading or working a lot! Also, there are some other neat features like a sleep timer, kid mode and so on. 
Mi desk lamp has stable light to reduce fatigue on the eyes, just through one button you can adjust the color temperature and brightness according to your needs. There are also 4 preset lighting modes that cater to different scenarios and user requirements. All these features are housed in a simple, elegant and beautiful metal casing that is extremely durable and designed to precision. I believe it will be your best choice if you are choosing a desk lamp now.