In this era of Internet, most of us install a Wi-Fi router at home to bring the advantages of the Internet to all our wireless devices, such as smartphones, laptops, smart TVs, streaming media players and so on. But, the truth is that we hardly ever pay attention to this router. And that is perhaps why we pull our hair out in frustration when the signal stick falls to zero in one part of the home or you don't get the promised speeds. Xiaomi has recently launched a powerful, smart and feature-rich wireless router called Mi Router 3C for home and small offices, which looks elegant enough to match your home decoration.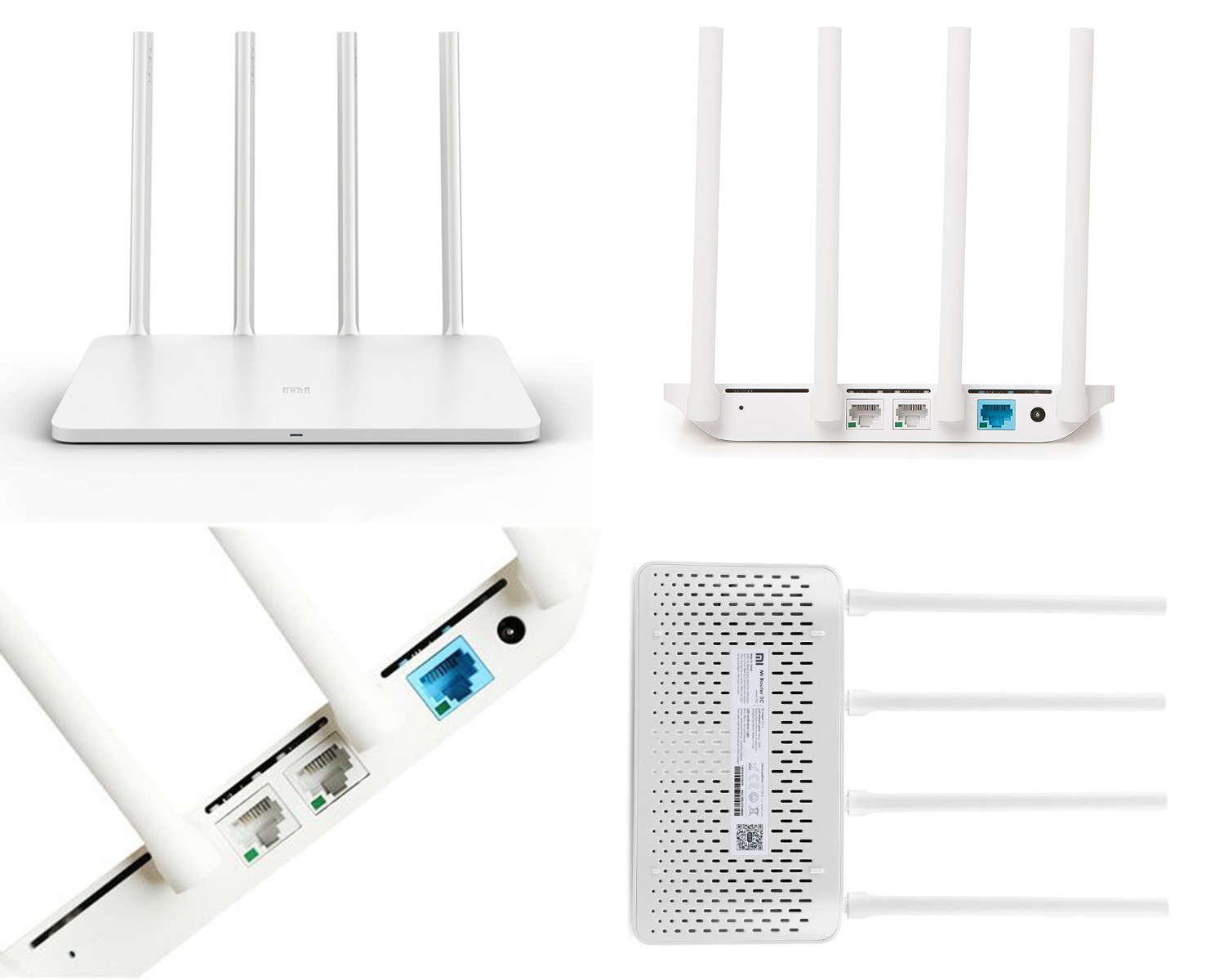 Mi Router 3C stands out from the crowd with its elegant and sleek design. Built from ABS plastic, it is fairly light at just 241 grams, measures in 195 x 107mm, looks quite nice. It doesn't need a lot of space and is available in white, so it will blend in with most of your other home electronics. 
It comes with four high-gain antennas, two for transmit and two for receiving, which can transmit the signal through barriers up to 80 meters. The four antennas together form a powerful wireless network that is designed to reach the far ends of your home with lower interference and better speed. With them, Mi Router 3C boasts of increased operating range and stronger signal. Everyone on the network will enjoy low-latency online gaming, smooth video streaming and seamless web browsing. The Mi Router 3C is one of the only routers in this price range to have four antennas. 
Around the back, there is a recessed reset button, two 10/100Mbps LAN ports, one 10/100Mbps WAN port for your Internet connection, and a power inlet. In the front, there's a three-color LED status indicator, which changes between red, blue and yellow to indicate the status of the router depending on the network status. The whole of the bottom is made of air vents because routers are known to heat up a lot when they are is use, so the air vents will keep the device running cool. 
Built on an MT7628N processor, the Xiaomi Mi Router 3C features 802.11n connectivity on a single band with 2.4GHz frequency, supports a maximum Wi-Fi speed of up to 300Mbps. It comes with 64MB DDR2 RAM, which is eight times more than typical routers, can seamlessly connect up to 64 devices at a time. Using its dual partition system configured on high speed 16MB flash storage, Mi Router 3C receives the latest firmware updates on schedule even if unexpected power outage occurs. Updating firmware has never been so safe.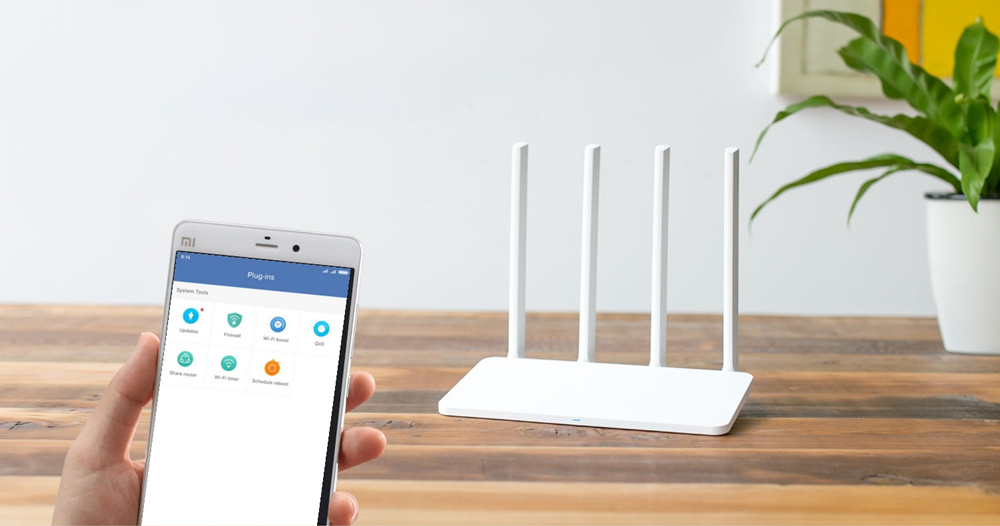 Setting up the router is a very simple process. Once you plug your Internet line into the WAN port (either directly or through a cable or ADSL modem), the Mi Router 3C will automatically set up the rest. To log in and change settings, you can either direct your PC browser to miwifi.com or download the Mi Wi-Fi app for Android or iOS devices. You'll be taken through a quick setup process where you'll set a password for the Wi-Fi (you can change the router admin password later), and you're all set. 
If you want to use the mobile app, you'll need to sign in with a Xiaomi account so that your router can be accessed remotely. Using it, you can view and manage settings remotely. Whether is blacklisting unwanted internet activity or setting time limits on child internet usage, you can do it all right from your phone.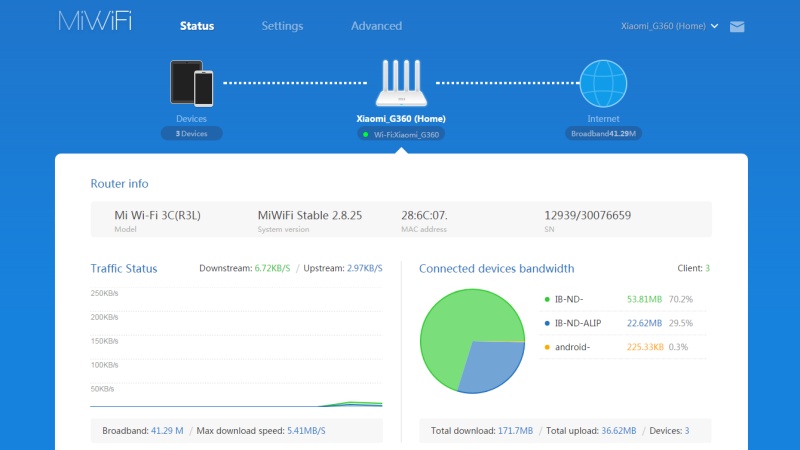 The Mi Router 3C has one of the best looking UI in similar products, which is clean and well organised. The app is loaded with various features like parental controls, Wi-Fi boost, real-time monitoring, scheduling reboots, QoS settings manager, an option to update the firmware, etc., puting you in command of your network anywhere and anytime.
On the homepage, you can monitor how many devices are connected and see details such as their MAC and IP addresses and for how long they've been connected. You can immediately disable a device's connection, and the router remembers to block that device if it tries to connect again later. The main page also shows you how much bandwidth each device is consuming in real time, with an easy-to-grasp colour-coded pie chart. 
You can monitor the total upstream and downstream bandwidth, CPU usage, and storage. There's a handy speed test option that shows you the download and upload speed of your connection. The settings page lets you change the name of your Wi-Fi network; hide it if needed; select the operating channel; and limit the signal strength (which is set to the highest by default). You can also enable a guest login and set a bandwidth limit for this through the Advanced Settings page.
On the Advanced Settings page, you can manage QoS (Quality of Service) based on what activity takes priority for you. Here, you can boost bandwidth for specific activities such as online gaming and video streaming. You also have the ability to assign fixed IP addresses to specific devices in your home like a NAS server, and you can set up port forwarding and VPN access. 
In the Security settings, you can blacklist specific devices or create a whitelist so that only ones you specifically authorise will be allowed to connect. If you're the extremely security conscious, you have the option to add devices based on their MAC addresses. The Mi Router 3C will periodically check for firmware updates, or you can flash it manually too.
Parental controls let you manage what your children can and can't see, even when you aren't home. you can limit a device so that it can only access a set of whitelisted URLs while blocking everything else, which is a nice form of parental control. You can also let other people monitor the router's traffic and firewall status, if you give the app permission to access your phone's contacts. Wi-Fi Boost analyses your signal strength, bandwidth, Wi-Fi quality and will automatically switch you to another channel if needed. With just a tap, boost Wi-Fi speed and reduce bandwidth bottlenecks through cutting edge technology. Wi-Fi Boost analyses the least congested channel and shifts your Wi-Fi on that channel for better speed. You can also get a notification alert every time a new device connects to the router.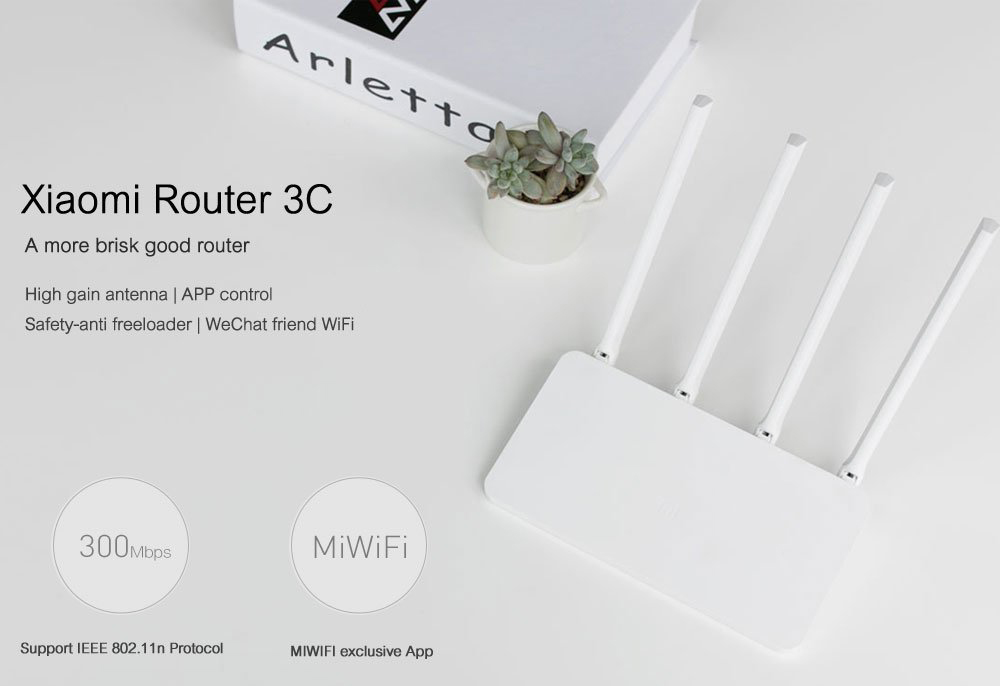 It's really hard to beat the Xiaomi Mi Router 3C at this price, as it delivers very good features, a useful accompanying app, and good performance. If you're looking for a basic router that doesn't skimp on features then the Xiaomi Mi Router 3C is a very good option at $23.99 for it will provide you with the fastest Internet experience. Since then, Internet usage, you can do it all right from your phone.