The UMIDIGI, one of the successful smartphone manufacturers of China, has launched their latest product-UMIDIGI Z2 4G Smartphone recently. The Umidigi Z2 has attracted many attention since its release because of its great specs for the price. It is a budget-friendly phone with nice design and a large notch display. Next, let's take a thorough look at UMIDIGI Z2 smartphone.
Display
UMIDIGI Z2 features 6.2 inches Full HD+ display, which is quite handy for those users who like big screen smartphones. The phone offers great visual effect with its top-notch resolution of 1080 x 2246. The IPS LCD display of UMIDIGI Z2 comes with wide range of features, it has a perfect reading mode and temperature adjustment technology. There is a notch on the top of the device and this notch has the dual rear camera. The size of the notch, however, does not influence its attractiveness in any manner. In fact, when coupled with the sleek bottom bezel, it works well to enhance the overall display quality on this smartphone. You can see fingerprint scanner and dual rear camera in vertical position while LED flash is perfectly placed just next to the camera lenses. Just like other big screen smartphones, this device is very comfortable to hold in one hand.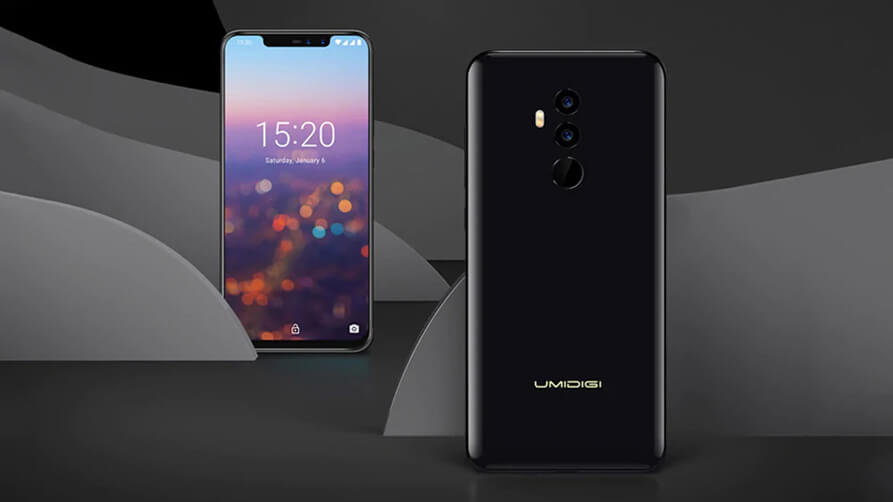 Design
In terms of the design, UMIDIGI Z2 features a body of Aluminum Alloy while it is covered in glass which make it truly extraordinary. The Z2 weighs only 165 grams and is 8.3 mm thick, making it one of the lightest smartphones in the market today. You may want to own such a smartphone because of its beautiful appearence and lightweight body. Furthermore, the UMIDIGI Z2 smartphone has defined curved edges and sides that make the appearance all the more subtle. The device reflects light differently under different lighting conditions with the virtue of its gradient colors. that is very beautifully.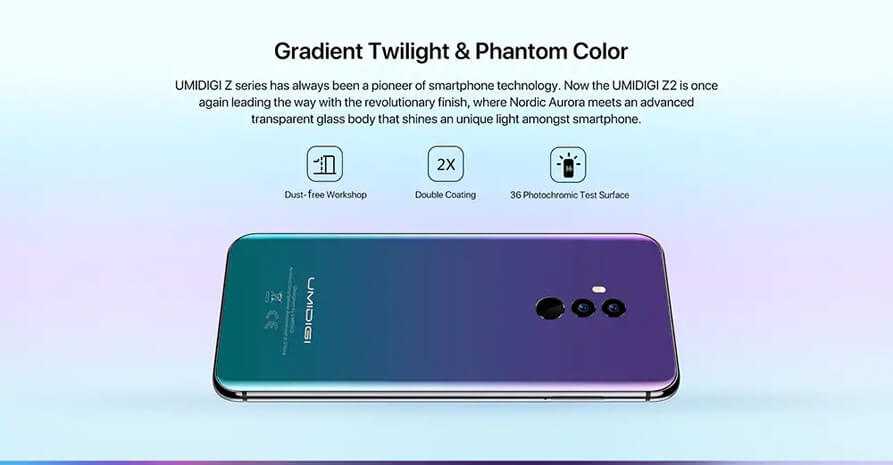 Software and Hardware
UMIDIGI Z2 is equipped with 64-bit CPU architecture and Octa-core processor. The eight-core processor- MediaTek 6763 with 16nm process technology are capable of smoothly clocking a processing speed of 2.0GHz. The processor runs on 8.1 Oreo operating system that offers you a smooth user experience. Z2 also comes with ARM Mali G72 MP2 graphic processor, which provides the better graphic to the games and high-resolution videos. The phone has 6GB of RAM and 64GB of ROM which support multi-tasking requirements for the users, you can always extend it up to 256GB with an external memory card.
Camera
This smartphone features quad cameras of 16MP and 8MP, which means it has two cameras on the front and back sides. The cameras come with 5 element lens and f/2.0 aperture and has some advanced features, such as panorama, low light enhancements, face recognition, dual-LED flash and real-time filters. What's more, the device can be used to record videos in 4K resolution.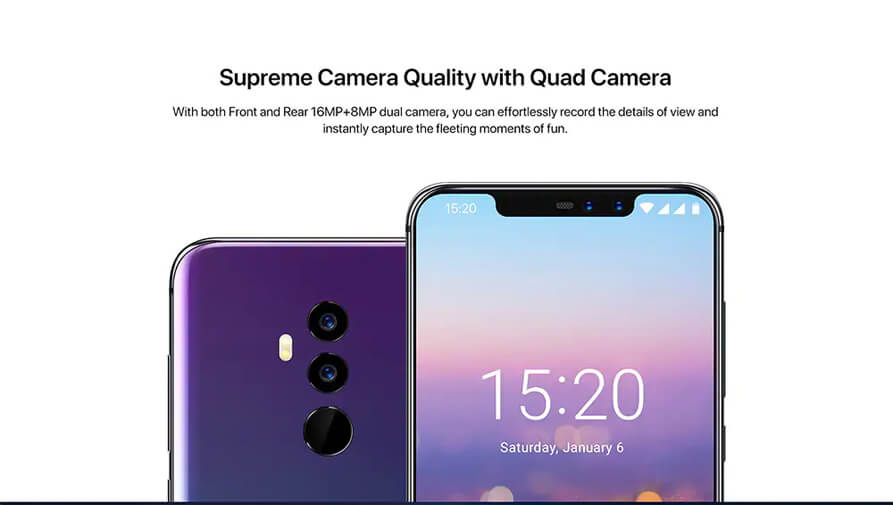 Battery Life
UMIDIGI Z2 is equipped with a lithium polymer battery of 3850mAh. It is a non-removable battery of 18W which supports fast charging, so this phone can be fully charged less than 2 hours. With the economical processor, the UMIDIGI Z2 is able to work up to 2 days in normal use.
Conclusion
To conclude, the umidigi z2 is an impressive smartphone with good build quality and so many features. Taking its advanced features and functionality into consideration, you will definitely know that why this Smartphone stands out in the market today. Moreover, umidigi z2 has a more reasonable price compared to other smartphones. So if you are planning to buy a new smartphone, then choose the umidigi z2. It will surprise you a lot once you own it.