Recently Nitecore TINI Keychain Flashlight, which is the newest keychain light from Nitecore, may match the definition of a perfect flashlight. TINI has a brilliant design that is compct and fashionable. Besides, this tiny keychain light utilizes a CREE XP-G2 S3 LED for 380 lumens max output with 70 yards throw, which is unbelievably bright. TINI maybe the smallest and brightest keychain flashlight on the market, let's see if it's the one for you.
Design
It is undeniable that the appearance of Nitecore products has always been at the forefront of fashion sense. The same is true of TINI. With an exquisite appearance and compact size, Nitecore uses a flexible circuit board inside the TINI to further reduce its thickness and weight. It was extremely light in its hands, with no sense of cumbersomeness. The Nitecore TINI is very tiny for the first sight. It measures a length of 43.3mm and a head size of 25.4 mm. Constructed from heavy duty aero grade aluminum alloy, the TINI is water and dust resistant to withstand daily use. Besides, it features electroplated silver edges and torx screws on it. There's only one version of this light, but there are some available body colors. Red, blue, black, gray, light gray, green, and gold are all available.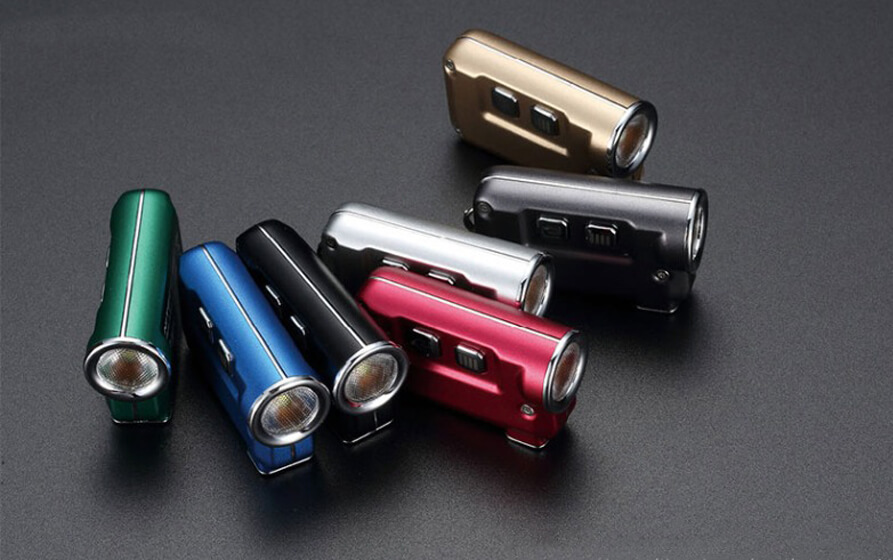 TINI Keychain Flashlight utilizes a bead surface reflector to provide soft and uniform lighting, it uses dual side switches. The electroplated light-permeable switches are located on the body. At the tail of the TINI, there is a keyhold design for attaching the key clasp. The Nitecore TINI is a USB rechargeable light. The USB charging port is placed at the side.
Easy To Operate
There are two switches for simple operation, they are "power" swicth and "Mode" switch. You can press and hold the power switch for 2s to turn the light on, which prevents accidental activation effectively.When the light is turned on, tap the mode switch repeatedly to cycle through Low-Mid-High. The switches have a very quiet click when pressed and they are plastic which can light up to display the battery level when the mode switch is pressed but rattle a little when the light is shaken. The TINI flashlight still comes with a respectable IP54 protection rating, meaning it won't have problems handling daily tasks. And with an included split ring slot and availability in 7 colors, it can be right at home in any EDC configuration and aesthetic.
Long Battery Runtime
Built-in USB charging port and Li-ion battery provides up to 60 minutes run-time at 145 lumens and over 365 day standby duration. Nitecore seems to improved the the TINI's battery because they boasts that it can supports up to 60 hours use. Besides, there is a built-in indicator LEDs reporting the remaining power level. The Nitecore TINI is charged easily by various power sources via the USB port. Charging is by micro-USB, and the cable is not included, so you need to find a proper micro USB cable for charging.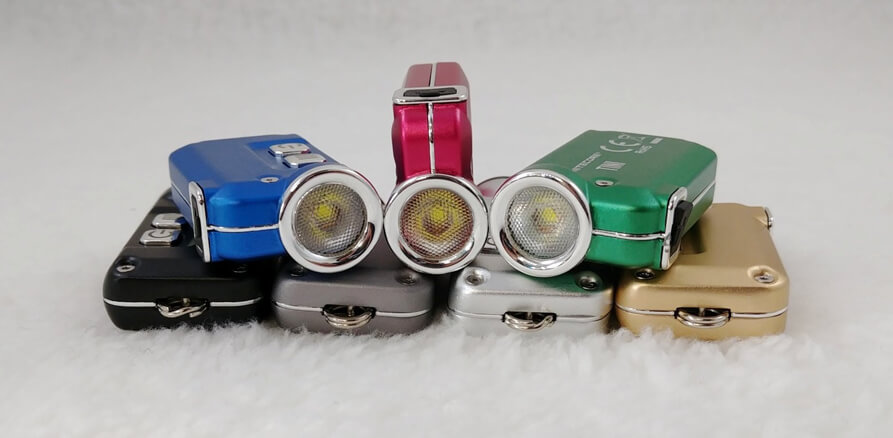 Performance
The Nitecore TINI supports four brightness levels to select – three general brightness levels and the Turbo mode. The user interface of this keychain flashlight is very simple and controlled by the dual side buttons. Besides, The Nitecore TINI can support direct access to Turbo mode no matter it's on or off by pressing the mode button for 0.6 seconds. As we mentioned in the beginning, the Nitecore TINI flashlight uses a CREE XP-G2 S3 LED for 380 lumens max output (Turbo mode). It has a smooth flood beam pattern of about 170 degree with an evenly bright spot. The High and Mid modes are bright, but the Low Mode is a bit weak. The tint color is creamy white that makes our eyes feel comfortable.
If yo're looking for a tiny and bright keychain flashlight for everyday carry, the Nitecore TINI maybe an ideal choice. As a keychain flashlight, the TINI 's volume and brightness are completely up to the standard. Once you own a tini keychain flashlight, you will get a fashionable design and decent brightness. Moreover, this flashlight 's price is very reasonable, so you don't need to worry about its quality. with this features and the simple UI, the Nitecore TINI might be a perfect flashlight for everyday carry.