Tanix is a popular brand when it comes to tv boxes. Recently Tanix has launched their latest product, that is Tanix TX3 Max TV Box. This tv box has an interesting design, satisfactory performance and low price, which has attracted more and more users' attention. TX3 Max is a good performance TV box that running Android 7.1 Nougat system. It has a large capacity of 2GB RAM + 16GB to ensure smoother and more flexible operation. Let's see more details about this tv box.
Design
In terms of design, the Tanix TX3 Max looks great. Although the box is not very small and made entirely of plastic, it has superior quality. There is also a small display on the front showing only the time. Like most tv boxes of this type, the slot is on the back. All of the box's connections are located to the right and back sides with all the storage ports (USB, microSD) being located on the right. Cable management should be easy only if you serve your media via network. At the bottom of the box, there are four round rubber legs that used for preventing slippage of the box. Overall, the box's design looks stylish and attractive.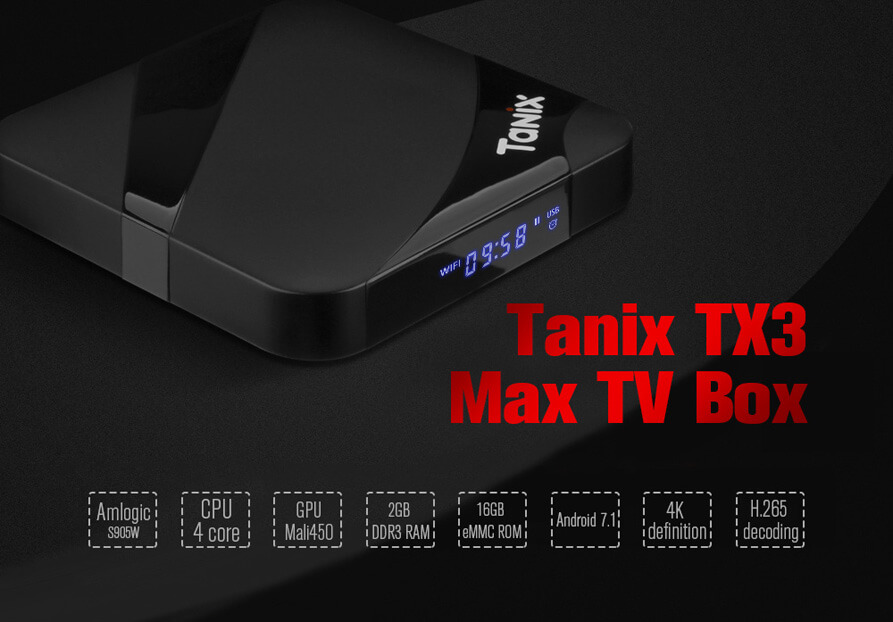 Performance
Amlogic-S905W processor: The Tanix TX3 Max is one of the first products on the market to integrate the Amlogic-S905W processor. The processor was recently launched, but it quickly gained a lot of praise. The processor is a 64-bit architecture with eight Cortex-A53 computer cores operating at 2 GHz. Along with this processor is the Mali450 graphics card composed of five cores at 750MHz that incorporates H.265 decoding and is capable of playing content in 4K format.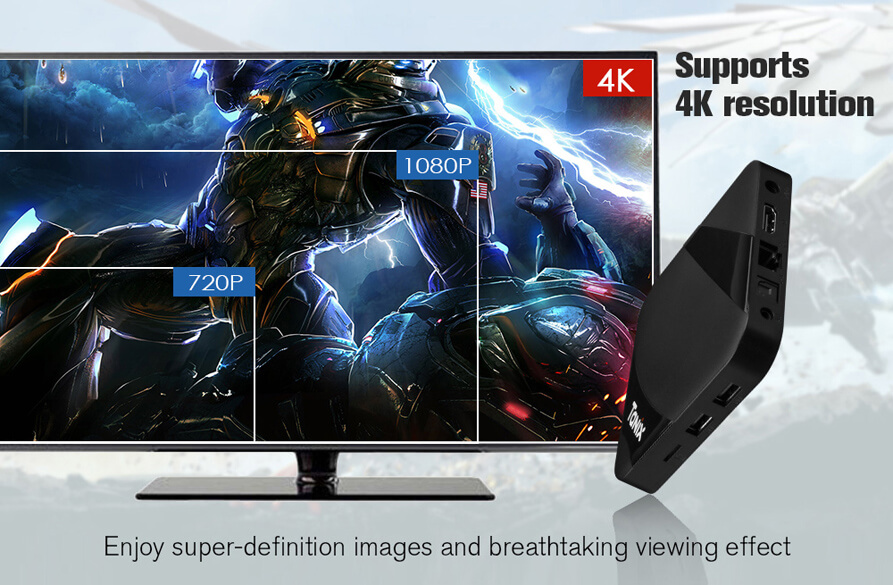 User interface: The user interface is a key selling point for the Tanix TX3 Max TV Box. it is a very nice and simple UI that stands out from the competition. There are actually three screen modes in the box, they are the main screen, the settings screen and the application drawer. All three of them are easily selectable from the left side of the screen. Shortcuts of your favorite applications can be added to both main and settings screens.
Alice UX launcher: The Tanix TX3 Max comes with Android 7.1 rocking the Alice UX launcher. Alice UX goes really well with this box and gives it a nice touch to its usability and customizability. Moreover, Alice UX comes with Netflix, Chrome, Youtube, and Kodi pre-installed, so it is ready for work at any time. The image quality of the TX3 Max is very good. It achieves the [email protected] smoothly and without any apparent drops either in FPS frame quality.
Storage: The Tanix TX3 TV Box is equipped with 2GB RAM and ROM has 16GB of storage capacity. The large capacity enables you to download a lot of app and games in your TV box. This feature has the ability to guarantee more smooth and flexible service.
Conclusion
There are too many TV Box models nowadays in the market, and people always get confused when choosing a good performance tv box. This tx3 max android tv box has good build quality and satisfactory performance that really meets your daily use. Besides, it is a a good choice in terms of budget TV box. So if you are seeking a good TV Box with an affordable price, TX3 Max TV Box is the best for you.