If you're a motorcycle enthusiast you should know that there is nothing to compare with the sense of freedom you get when you are on a motorcycle. But riding a motorcycle also has its drawbacks, especially when it comes to staying in touch with your friends. You can chat and enjoy listening to music easily in a car, but it is almost impossible to hear anything over the wind when you are on a motorcycle. Plus you need to keep your helmet on to stay safe. There is a solution and that is motorcycle Bluetooth headset. It is very helpful especially if you want to have a funny experience with your friends.
What is a Motorcycle Bluetooth Headset?
A motorcycle Bluetooth headset is an intercom system which you can use while you are on the road. With it, you can communicate with your fellow riders even in loud, windy conditions, all without removing your helmet.
How does it work?
Motorcycle Bluetooth headsets work through the use of short-range wireless networking technology. Chances are good that you are already somewhat familiar with Bluetooth technology, because it is likely installed already on your desktop, laptop or mobile device.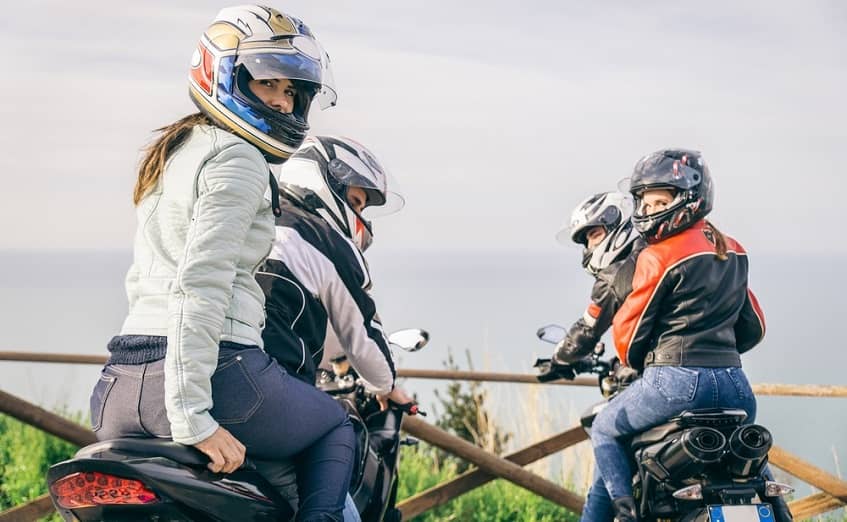 Questions to Ask When Shopping for a Motorcycle Bluetooth Headset
How many riders will be in your group?
This is one of the most important questions that you can ask yourself right off the top. There are two reasons you need to take this into account. First of all, you need to make sure that you are choosing a headset which allows you to connect as many units as you need for your group. Secondly, it is important because you need to know how large your group is to determine how much range you need. For smaller groups, 500 yards is generally sufficient. But for larger groups, you might need around 1,000 yards.
Where will you be riding?
This is important for couple of reasons. Firstly, it connects to the range consideration again when you will usually be riding in open settings which are uninstructed, you will not need nearly as much range as you would if you will regularly be traveling through cities. Secondly, if you will be traveling in environments where you may encounter a lot of rain, you should be looking for some degree of water resistance. You certainly do not want your headset to short out because of a few raindrops.
How do you prefer to install your headset?
There are two different methods for installation which are common with motorcycle Bluetooth headsets. The first is to use 3M double-sided tape to stick the device onto your helmet. The second is to clamp the intercom in place. Most people prefer the clamp-on devices, which are the most common.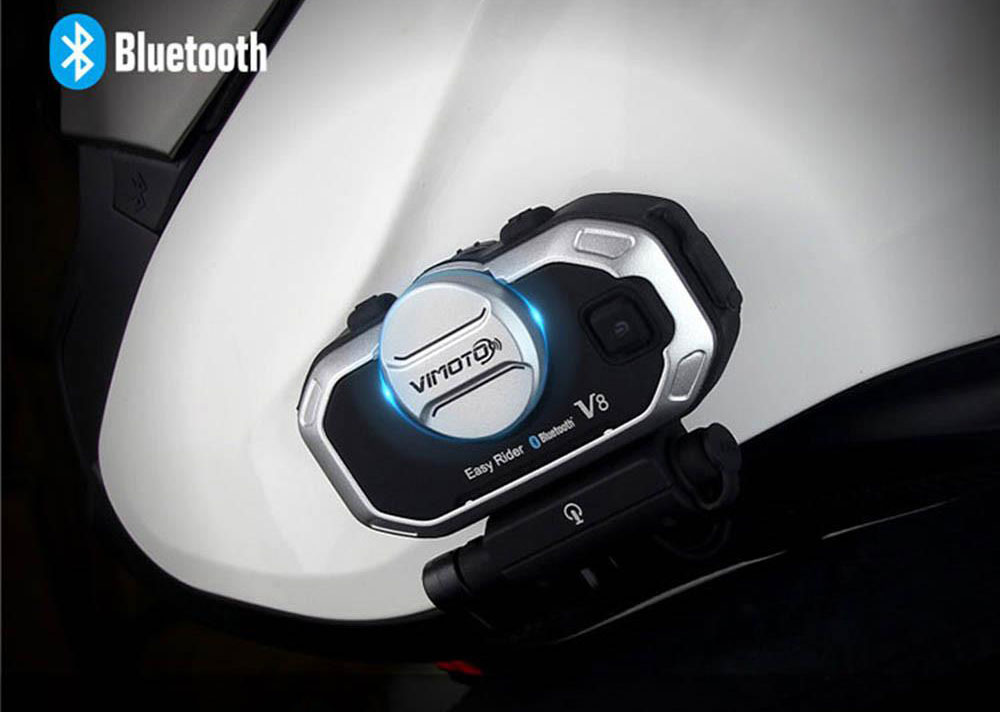 Features and Add-Ons to Look For
Range
As already discussed, range is extremely important, and should probably be your first consideration. These days, you will find that even headsets with a fairly long range are not that expensive. So this is an area where you probably will not need to compromise.
Support for multiple riders
There was a time (which you may remember) when you could only connect two motorcycle Bluetooth headsets to each other. Thankfully, the technology has progressed to the point where you can now network between a large group of riders. Still, all systems have their limitations, so you should check to make sure that the intercom system you are choosing will be able to support everybody in your group.
Voice prompts
Voice prompts allow you to operate your headset hands-free. This is an important convenience and safety feature. You can focus on the road and keep both hands on the handlebars.
Music sharing
This is a feature which allows you not only to listen to music while you're on the road, but to share your music with your fellow riders.
Camera
One advanced feature you can look for when you're shopping for a motorcycle Bluetooth headset is a camera. You will pay extra for this, but if you enjoy recording your adventures on the road, a camera can be an amazing feature. Some systems even allow you to capture time lapse footage or mix music and narration on the fly. This doesn't just save you time on post-production later, it also allows you to capture the moment more authentically.
GPS
GPS is one of the most useful features you can find on a motorcycle Bluetooth headset. Not only will this prevent you from getting lost, but you can use it while you were on the road and communicate with your buddies. This prevents you from having to pull over all the time to discuss directions. 
Sound quality
This is one of the most important features to evaluate when you are going to purchase an intercom system for your motorcycle adventures. It takes excellent sound quality and noise cancellation to dampen all the interfering noise from your environment (wind, rain, traffic, etc.). Just as important as crystal-clear output is sound which is loud enough. So also check to make sure that the volume is going to be adequate for your needs. 
Connectivity for cell phones
Another great feature to shop for is cell phone connectivity. This allows you to access your phone's features while you are on the road. This feature is best paired with hands-free operation. 
You now know the most important features to shop for in motorcycle Bluetooth headsets. Technology has really evolved since the days when you could only connect one pair of headsets to each other. You can now stay in contact with a large or small group and use your other devices without compromising your safety on the road.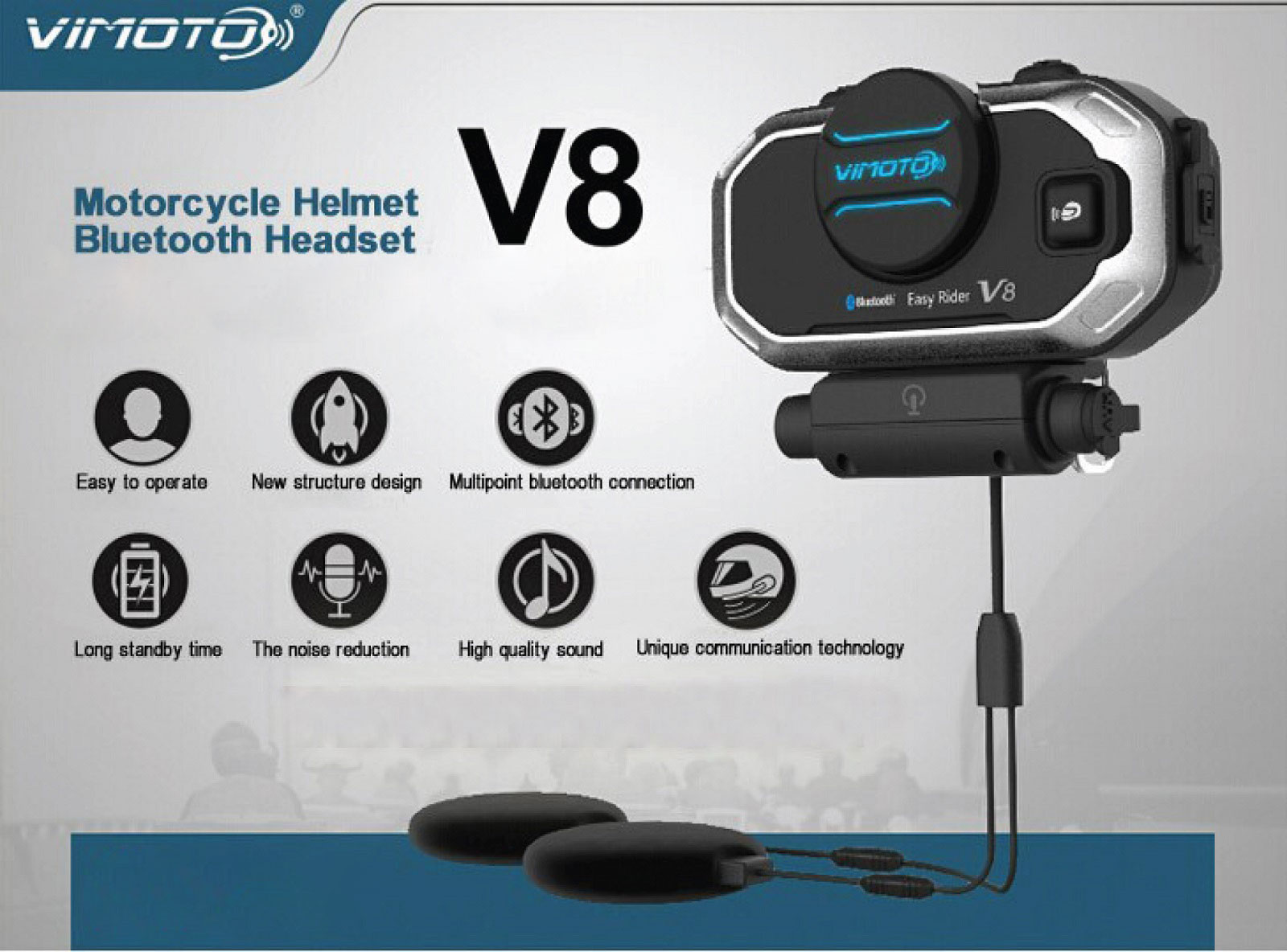 If you want to purchase a cheap and good quality motorcycle Bluetooth headset, we introduce you the Vimoto V8 Motorcycle Helmet Bluetooth Intercom Headphone. It is easy to install and equipped with all the necessary accessories for different helmets. You can connect to the handphone via bluetooth, to answer the phone and listen to music. It comes with cables that allow you to connect GPS/Sat Nav., Media / MP3 player, and walkie talkie. The good sound quality is over 80 km/h - 110 km/h, which depends on helmet (full face/open face). The water resistant feature has been tested during heavy down pour. 850mAh battery can last 10-13 hours at full charge, ensures the quality and durability of the product. V8 can be paired with 2 different Bluetooth mobile phones, keeps high-fidelity Bluetooth music and voice calls. Automatic reminding of the low battery and needs charging on a Bluetooth headset is a really thoughtful function.