Today we are introducing the Klarus XT11X LED Flashlight, which is another impressive tactical flashlight from Klarus. This tactical flashlight will be very attractive with its superior illumination. It may be the brightest single 18650 light in the market today. Let's have a closer look at this powerful flashlight.
Build quality
Constructed from Aerospace grade aluminum alloy with a hard anodized finish, The Klarus XT11X will resist wear and can withstand harsh conditions. Its stainless bezel ring offers protection from impact. One-piece integrated head bezel design is used for high efficiency heat dissipation. It's impact-resistant up to 1 meter and waterproof up to IPX8 standards.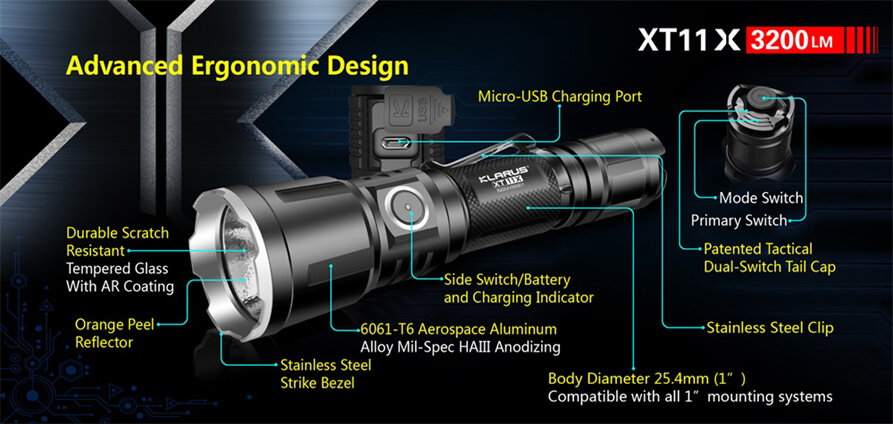 Super bright light
The Klarus XT11X is the brightest single 18650 light in the market today. It has a compact body for it is 6 inches long and weighs less than half a pound. The flashlight is equipped with CREE XHP70.2 P2 LED that has a max output up to 3200 lumens. The 3200 Lumens of brightness can throw further than 300 yards! Such high power in such a compact light is really amazing. With its powerful IMR 18650 power source, the XT11X far exceeds all its competitors. It features a deep orange peel reflector so you'll get a broader beam to illuminate the entire area around you.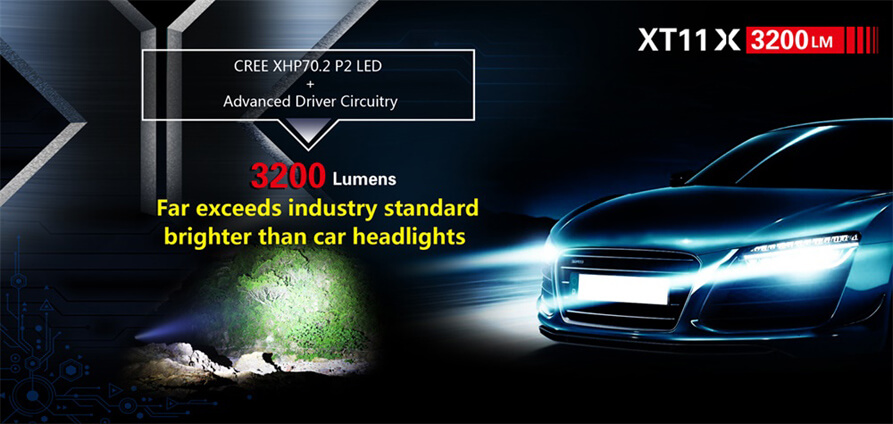 Six total outputs
The Klarus XT11X features four brightness levels ranging from 15 lumens to 3200 lumens and two special modes for emergencies: SOS and Strobe. With these output options, you are prepared for any situation.
Two programmable settings
This flashlight also have two programmable settings to choose from: the Tactical Setting and the Outdoor Setting. In the Tactical Setting you can access to a One-Touch Strobe and a One-Touch Turbo. In the Outdoor Setting you can access to a One-Touch Turbo, a One-Touch Low, and the SOS. These two programmable settings make the flashlight to be easy and quick to use in different environments.
Versatile operation
The XT11X flahlight offers a versatile operation that can be tailored for your preference. It features a tactical dual tail switch as well as a single side switch that operates independently. The dual tailcap switch tailored for more tactical operations and the simple side switch better suited for normal everyday applications. The different switches have different functions. The dual tail switches allow you to turn on and off the flashlight, cycle through the modes, and features a lock out function, a momentary on, a One-Touch Strobe, or a One-Touch Low. The side switch allows you to turn on and off the flashlight, change modes, and features a One-Touch Low, a lockout function, and a mode memory function to turn onto the last brightness level you used.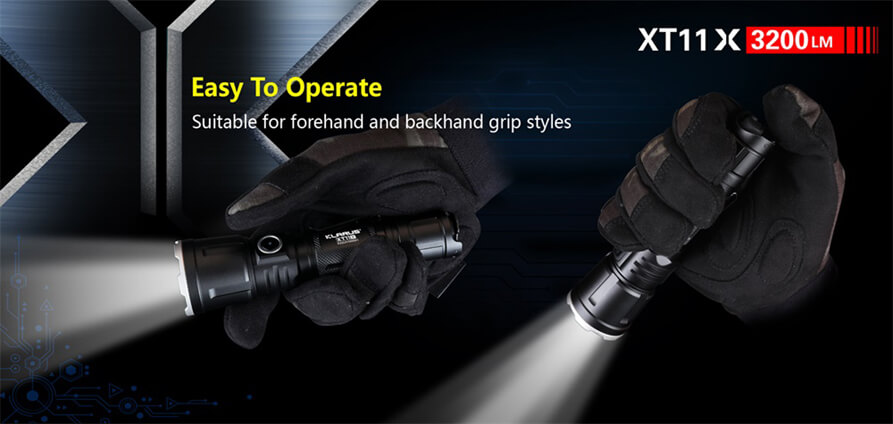 Battery
The XT11X comes with an 18650 battery with a 3100 mAh capacity. However, it can run on two CR123A batteries or two 16340 batterie, you can choose what you prefer. With the intelligent battery identification system, the XT11X will adjust the maximum output to match the equipped battery or batteries so that you can use the flashlight safely with any of the compatible batteries.
USB rechargeable
The XT11X is also USB rechargeable with an Intelligent Charging System that monitors the charging status, prevents overcharging that allow safer charging. Charging status can be easily monitored thanks to the multi-color LED indicator built right into the torch's side switch, glowing red while charging and green once charging is complete.
Conclusion
The klarus xt11x tactical flashlight is really a reliable flashlight for versatile use. This flashlight can produce super bright light that is perfect for outdoor or tactical use. So if you're looking for a powerful compact tactical flashlight that offers you wide range of uses then don't hesitate to get the Klarus XT11X.