Recently the well-known Chinese manufacturer Jumper has released its new product, that is JUMPER EZBOOK X4 Notebook. This device has lots of impressive features like 14.0 inch FHD display, Intel Gemini Lake N4100 processor, which make it stand out in the market today. And the notebook is budget-friendly so that is very popular now. You can get to know more details about it from here. So just check it out.
Design and Display
The JUMPER EZBOOK X4 has a sleek and slim design, which is made for professional as well as casual use. So the office workers or students and others can use it perfectly. The entire outer case is made up of matte aluminum metal which gives it a high quality and almost rustic feel. The exterior of this device is thin and stylish, which make it lightweight and easy to carry anywhere. In a word, the Jumper EZBook X4 has been made by keeping portability with a simple design.
On the bottom of the notebook, there are four rubber feet in each corner which gives the laptop traction so it firmly stays in one place. On the side of the laptop are the SSD slots., while on the other side have the standard 3.5mm headphone jack, one HDMI slot and lastly, it has two USB 3.0 slots.
Speaking of the keyboard, it has a backlit keyboard with all the keys spread across the panel evenly. There is even space among the keys and offers good typing for the user.
In terms of the display, the JUMPER EZBOOK X4 has an amazing 14.0 inches Full HD IPS screen. With this screen, the user can enjoy a good reading experience and web browsing. Besides, the screen has a resolution of 1920 x 1080 pixels which boasts impressive high-quality images.
Hardware and Performance
Jumper Ezbook X4 Notebook Comes with Intel HD Graphics 600 GPU Dual graphics supported, better and faster in playing games and watching videos. It also features a 1.1GHz Intel Gemini Lake N4100 Quad-core processor with turbo frequency up to 2.4Ghz. The intergrated InteI UHD Graphics 600 is used for graphics processing. The Jumper EZBook X4 Notebook comes with ample amount of storage that offers ease of access to users. The EZBook X4 has the most massive RAM Capacity of 8GB. The hard disk memory is 128 GB with an interface type of M.2. The type of the RAM is DDR4L. The 4GB DDR4L RAM can be used for advanced multitasking, up to 8GB, substantial high-bandwidth RAM offers you a high-impact gaming experience, ensures smooth operation and stable multitasking using experiences.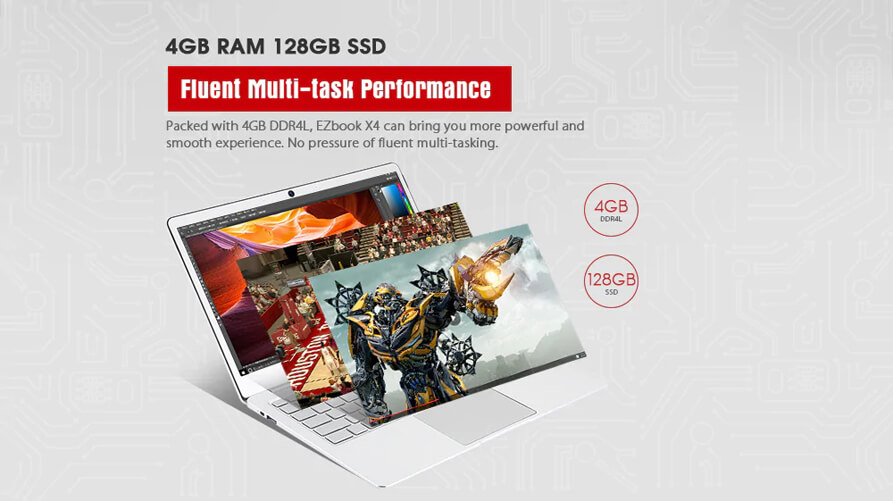 Battery
The Jumper EZBook X4 uses a non-removabele, lithium-polymer battery with a capacity of 9600 mAh and lasted 7-9 hours depending on the application. Using it in normal office mode, the battery lasts longer than if you are using it for watching videos or other high-performance applications. The total time it takes for the device to completely charge to 100% is about three hours, that is not bad while most devices take at least 2 hours.
Camera
The Jumper Ezbook X4 Notebook comes with built-in 2.0MP front camera. You can used it for video chatting and taking photos. It is good enough to allow you to video chat with family and friends easily.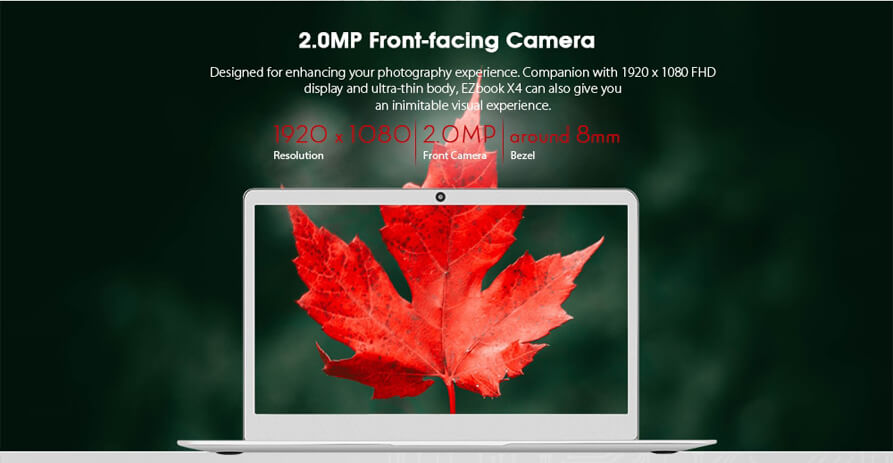 Conclusion
To conslude, the jumper ezbook x4 is an amazing laptop with features that definitely stands out. It has a great design and build quality. The 14-inch screen will offer you a good experience for watching videos. And the graphics card can help you to play games without delays. It has other great specification like 4GB RAM, 128GB SSD. So if you are looking for a high-quality and budget-friendly notebook for everyday tasks then the JUMPER EZBOOK X4 is perfect for you.