Xiaomi is the leading brand all over the world with its outstanding products including smartphones, wearable devices and other electronic gadgets. Recently the company has launched another amamzing pruduct, it is Xiaomi Mi Sphere Camera. This is a 360 degree action camera, which is excellent in capturing images with incredible image stabilization, so it definitely has good image quality. The Xiaomi Mi Sphere has high performance that value for money, next let's see how this device performs.
Design
The Xiaomi Mi Sphere Camera has a unique design compared to other action cameras. It is almost a perfect square, which is also a very thin device with two small lenses protruding out of each side. At this compact size, it's incredibly easy to hold in your hand or slip into a pocket or purse. The frame of the Xiaomi Mi Sphere Camera is made of aluminum and the top edge of the camera has a microphone, a power button which doubles as the mode selector, a WiFi button, a capture button, and another microphone. On the left hand side of the Mi Sphere you'll find the USB charging port and the Micro SD card slot. The underside of the camera includes a standard mounting screw hole for attaching to a tripod or other gear. Overall, the Xiaomi Mi Sphere Camera has a elegant design and good build quality look and feel.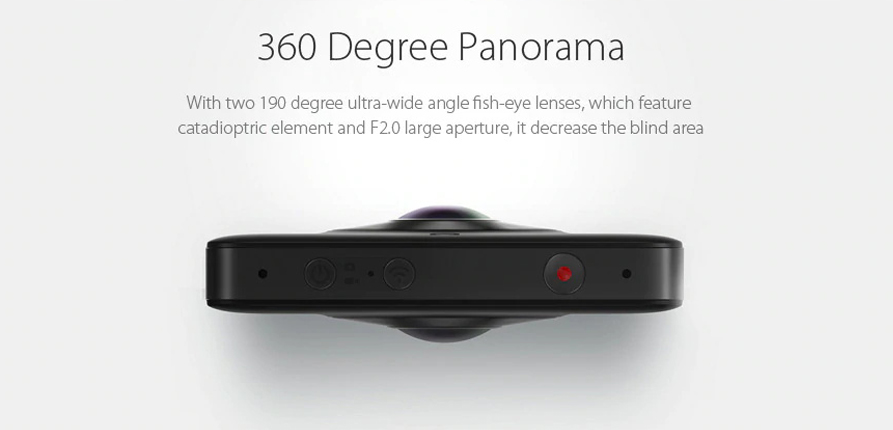 Image and Video Quality
The Xiaomi Mi Sphere Camera has everything that you expect with a 360 degree camera. There are two 190-degree wide angle lens camera with F/2.0 aperture on both sides. The large wide angle foldable lenses is there to give you the perfect 360 degree pictures. Because each lens can capture slightly more than 180-degrees, the camera intelligently stitches together the two images to form a nearly seamless, full sphere. The Xiaomi Mi Sphere 360 degree camera could deliver the images with 7K resolution and up to 23.88 megapixels. So you can expect vibrant image quality with Mi sphere 360 Camera. The powerful six-axis image stabilization feature corrects the capturing while in movement.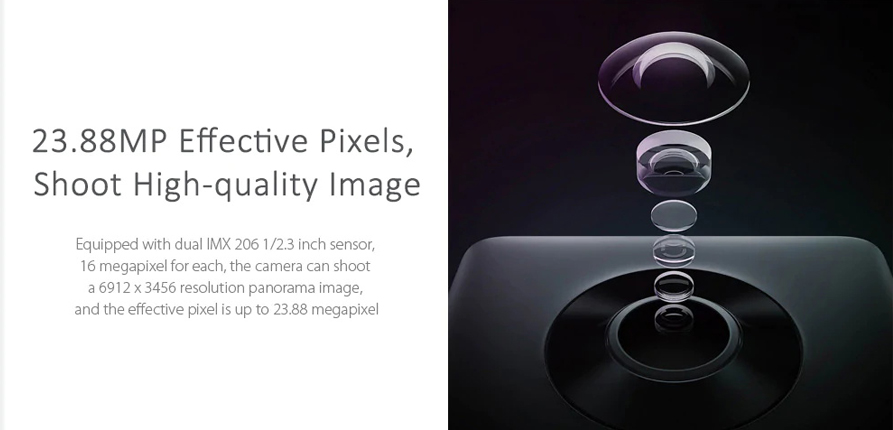 In terms of video, it can shoot the videos with 4K quality which can compete with the premium smartphone brands. The video quality which is started with 3.5k now upgraded to 4k, so you can shoot with 4k Hd video quality with 30 frame rate per second. What's more, slow motion modes are also there for recording videos, that gives you best shots with 2048 x 512 pixel and 120fps. Overall, it is a quality camera no matter in shooting images or videos.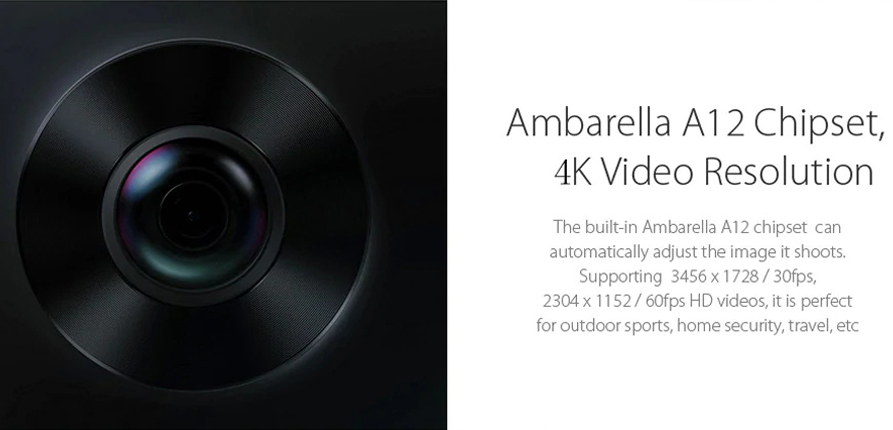 Mi Sphere App
Xiaomi Mi Sphere Camera has no display options so it is hard to know that the last captured picture was perfect or not so Xiaomi launched a Mi Sphere App with the camera. So you can see the preview of the captured pictures at the app. The Mi Sphere App is available on the Google Play store and Apple App store. The Mi Sphere app connects to your camera via Wifi, so you'll have to set it up the first time you use it. The app allows you so many controls. In addition to previewing the image, exposure, shutter speed, ISO and white banlance are also directly adjustable. You can also change the camera settings to match different conditions with the help of the app.
Storage and Battery
There is no any storage in Xiaomi Mi Sphere Camera. Micro SD card is the only option for storage. You can use micro SD card up to 128gb. The camera is packed with 1600mAh battery. It supports quick charge 2.0 and lasts up to 75 minutes of 4K recording and up to 200 HD photos.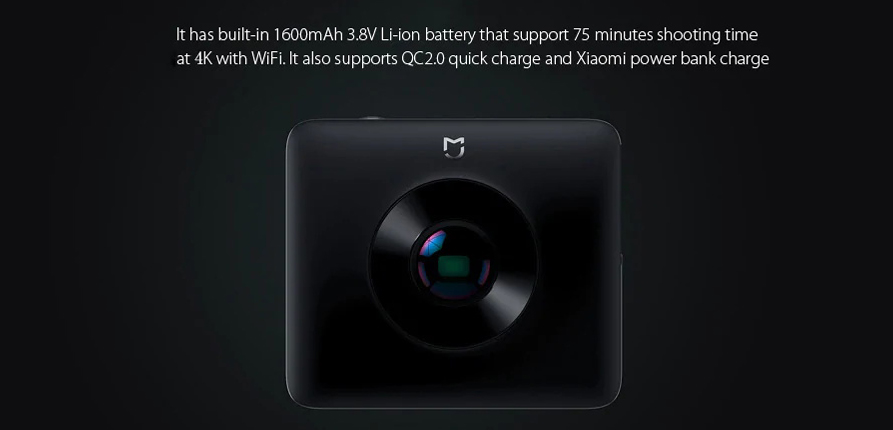 Other Features
The xiaomi mi sphere camera is an IP68 rated device, which is water, dust and temperature proof resistant. And it can shoot in 10 degree Celsius and 45 degree Celsius easily. GPS tagging is the new feature which recently added in mi sphere camera. The time-lapse mode is also an advantage for this 360 degree camera.
Conclusion
In summary, the xiaomi mi sphere 360 camera is a perfect option when choosing a quality action camera. It packs with many advanced features. It produces good quality photos and videos with stable performance. Easy to carry with compact body also makes it very special. So this is definitely one of the best value 360 cameras available in the market. So if you are planning to purchase a good quality 360 Degree camera, then the xiaomi mi sphere is right for you. You can buy the Xiaomi Mi Sphere 360 Camera from Gearvita.com.