Chinese electronics giant Xiaomi company may be famous for smartphones, but it also produces a wide variety of other products, from televisions to drones. The Mi Band 2 is the latest wearable fitness tracker from Xiaomi, especially for sports lovers. It will record every moment staying with you, just to live a healthy life with it! 
The Xiaomi Mi Band 2 looks cheap but it doesn't look that cheap. There's a central core module that pops into a slim, silicone strap, allowing you to swap it out for straps in different colors. Once the core is in place, it's not going anywhere at all, and is more securely fastened in. The silicone strap is sturdy and actually pretty comfortable, the clasp system is strong and secure. And the actual tracker itself, which you snap into the strap has the heft of a proper bit of clever wearable technology. 
With the IP67 water resistance rating, so it'll survive a swim, a shower, dust, and corrosion. Even wore in the shower, it still works perfectly. There's an optical heart-rate sensor on the underside bit of the unit that touches your skin, it is a circular touchpad that cycles through the data feed. It's not a button, and only requires a tap to operate. Get to the heart rate screen and it'll start taking a measurement automatically. The bottom edge is home to two charging pins that link to the aforementioned charging cable. This is quite a short lead and if you lose it, you won't be able to charge the Mi Band 2, so keep it safe.
The most noticeable new feature on the Mi Band 2 is the display. Although small, it's a monochrome 0.42 inch OLED screen that's incredibly bright, so it's easily viewable at both night and when exposed to direct sunlight. It shows a variety of information, which can be customized through the supporting Mi app such as the time, total steps, and heart rate measurement, calories burned, distance traveled, and battery status.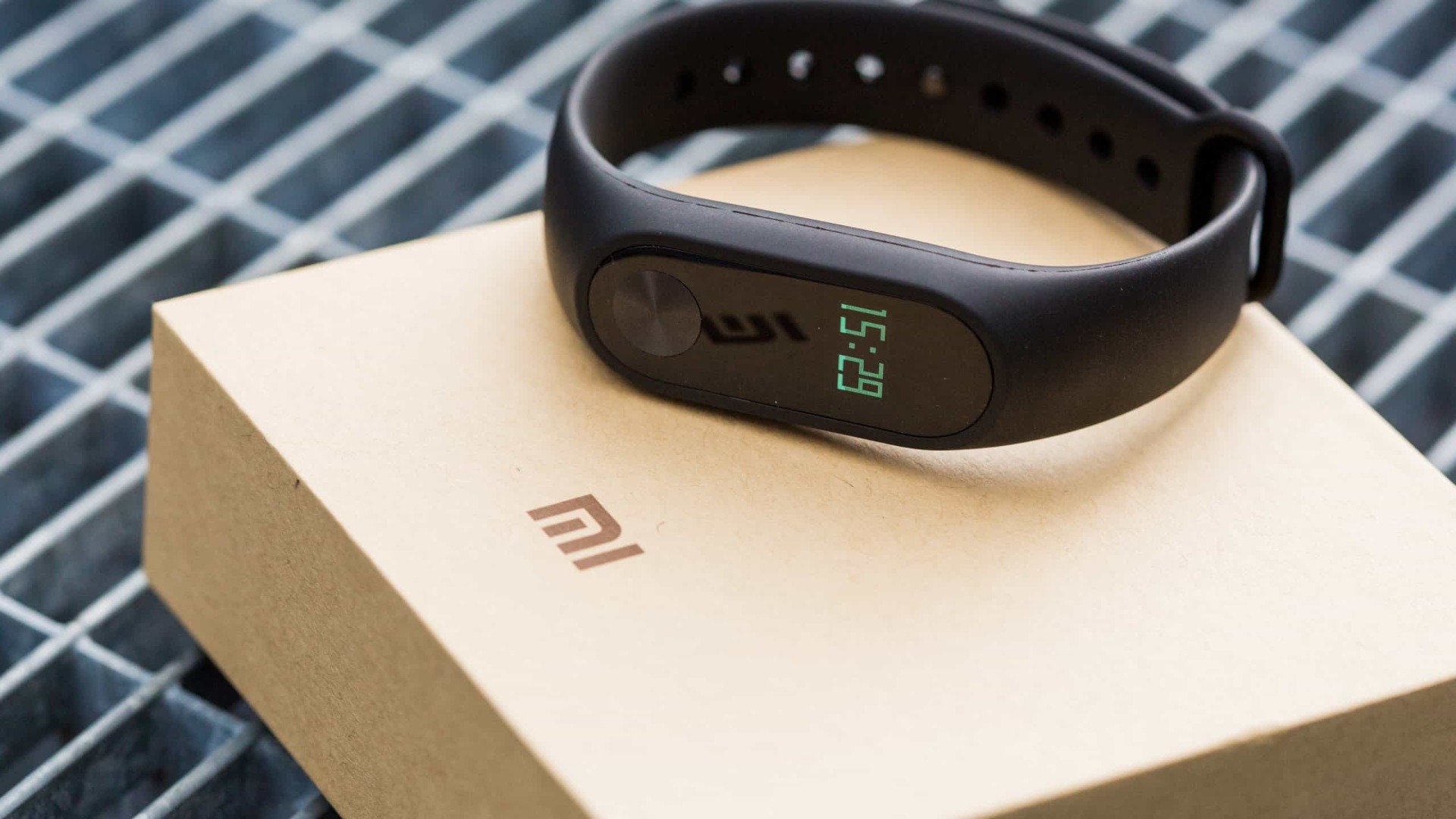 A shiny panel covers the screen, it feels like plastic, but Xiaomi promises it's scratch resistant and won't attract many fingerprints. Despite being exposed to the elements on my wrist, it shows no sign of scuffs or marks, and it's never a smudgy mess.
Xiaomi's official Mi app is compatible with Android and iOS, so regardless of the phone you use, the Mi Band 2 should work fine. The app is quite basic. It collects data from the band and collates it in a series of graphs, one for steps and activity, the other for sleep. These are then put into historical graphs covering the day, week, and month. Significant exercise periods are highlighted each day, with the time, distance, and calories burned all shown.
The Mi Band 2 will also record your light and deep sleep, and it does a pretty good job at both. It will automatically detect when you go to sleep, so there's no need to open the app and press a sleep now button. Once you wake up, you can check all your sleep stats in the Mi Fit app. You'll be able to see how much light and deep sleep you experienced, how many minutes you were awake, as well as the exact times you fell asleep and woke up. 
You can set a daily step count target and an ideal weight you'd like to achieve, and in a recent app update, lets you select one of two running profiles — indoor on a treadmill, or outdoor. This adds in continuous heart-rate monitoring during your workout. Select either profile, and it'll deliver zone alerts when you reach a set heart rate, and a pace alert for running outside. It's also possible to use the heart rate monitor automatically during the night to gather more data. And the band will alert you of incoming calls, system notifications.
Most humanized, the device will give you a short vibration if you're inactive for one hour, and you can customize what times of day this feature is turned on. For the office workers who sit at a desk all day, reminds them to get up and move every once in awhile is definitely a plus.
One of the best things about the Mi Band 2 is its long battery life, the standby time is 20 days without a recharge, which is superb. The core module must be removed from the strap and fitted into a proprietary charger to top up the battery. It's very reliable too. 
It's light, durable, easy-to-use, has a bright OLED screen, and is at $27, which is astonishing value for a heart rate monitor equipped band. There has few challengers that can meet it head-on. If you only have little budget to spend and want something that can keep tabs on your daily activity, this device might be the perfect thing for you.