Today's topic is that we will talk about the differences between Sabbat E12 and Sabbat X12 Pro wireless earphones, it may concern to design, battery and audio performance. Don't wait, just join in!
Like the quote goes, "Without music, life would be a mistake" In recent times True Wireless Earbuds having been taking up the market like a storm. It's the user experience that these devices tend to deliver, that makes these buds "perfectly convenient", such as this earphones brand in today's topic - Sabbat E12 and Sabbat X12 Pro.
In fact, once you use a TWS, you would never want to shift back to the regular earphones. The SABBAT E12 is comparatively the latest add-on to the Sabbat True Wireless Series. There are a lot of things that you'll have to consider before purchasing a true wireless earbud from design, convenience, even battery to how it sounds.
Design:
In terms of design, the major difference is the angled ear-tips. With the SABBAT X12 Pro there was a huge issue with the placement of the buds on your ear rest. While using, I had them falling off at several times. Although you are provided with a fin shark rubber protector on the SABBAT X12 which will help you to solve this issue. Luckily in stock, this has been taken care with the SABBAT E12.
SABBAT E12 comes in a glossy finish charging bin. They feel sturdy but nothing unique. I hate the fact that the BIN provided with the SABBAT E12 is made up with a glossy plastic which means it is prone to scratches and finger print smudges. On the other hand the SABBAT X12 PRO comes in a matte finish bin. Which is definitely lot better when coming to dust and smudge resistance.
Audio Performance
The company claims to have integrated intelligent noise reduction chips on the E12 SABBAT and X12 PRO. The chip uses its unique noise reduction algorithm to eliminate noise. It is more like the noise reduction function of most audio editing software.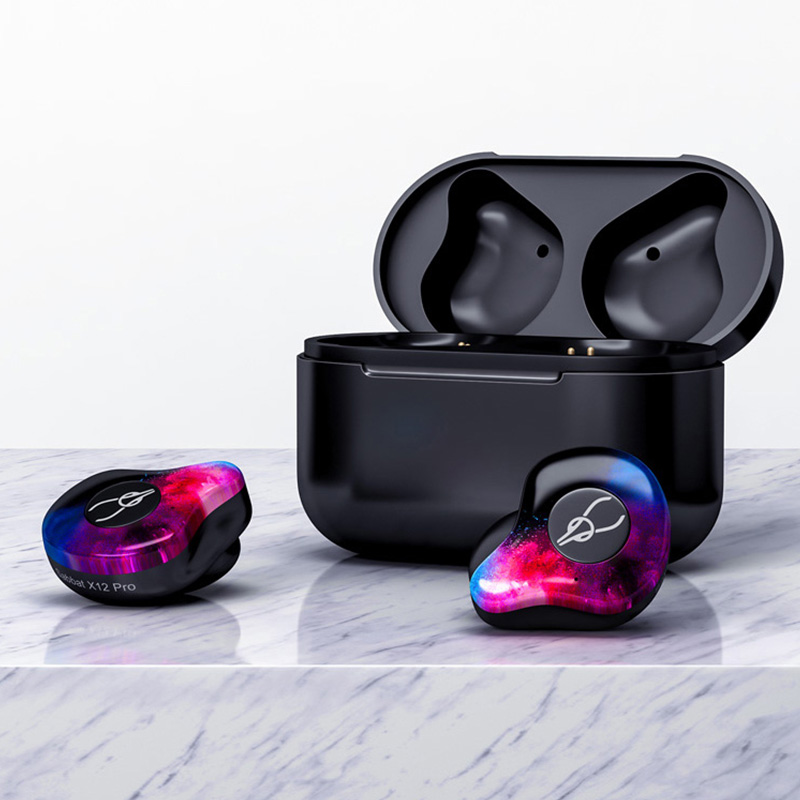 Let me make it clear. Compared to the X12 PRO TWS, the SABBAT E12 TWS sounds much better. I really don't brag, when I first wore it, the flower buds blowed me away. I never expected the SABBAT E12 True Wireless earbuds to sound good.
Battery
On average, 6-8 hours of music is easily played with the SABBAT E12 TWS. In addition to the power of the bud, you can get 4 charges through the charging box. So you can experience about 30 hours of music playback on the SABBAT E12.
I am glad that you did not install another TWS with a micro USB on the charging box. With the SABBAT E12 and X12 Pro, you will get a USB charging box. It takes about 2 hours to fully charge.
Conclusion:
In my opinion, it is just not the price-slash that makes the SABBAT E12 a great choice but the performance and quality it offers for this brilliant price-tag. And compare to X12 pro, I think E12 is an upgraded version.
Other hot-sale earphones you may like:
microwear h8
bluedio hi tws