Are you looking for the best keychain flashlight? Today we are talking about a new keychain light from Olight, that is Olight I1R EOS Flashlight. The I1R EOS is so small that is perfect for everyday carry and bright enough to light up a room with a max output of 130 lumens. Now let's take a closer look at this tiny EDC light.
Appearence
The I1R EOS is very tiny. It's 14mm wide, and only 41mm long. The light is the smallest edc flashlight with130 lumens ever. With a compact body, It is shorter than a AAA battery and slimmer than a pinky finger. The size overall is pretty small but useful. The light separates into two pieces, the head and the body. There is an o-ring which fits tightly into the head. The micro USB port is in between the o-ring and the threads. The knurling on the body is very fine but covers a large area which helps with grip. The positive contact on the body is a brass button. This button is equipped with a very stiff spring, which allows the I1R EOS to change modes very smoothly. The light uses a TIR optical lens for a smooth beam profile. It also comes with a single small key ring. In a word, the The build quality of I1R EOS is great.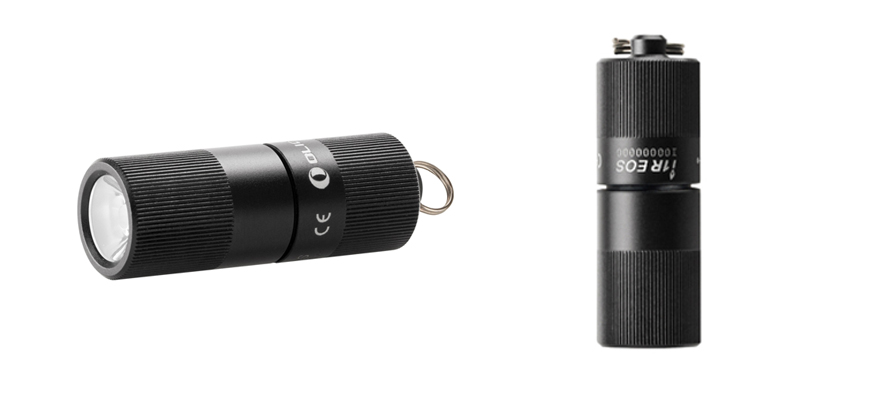 Beam
The I1R EOS uses a cool white Philips Luxeon TX LED and a TIR (total internal reflection) optic. Its 130 lumens produces a soft and balanced beam. It lights up a whole room with a clean, white light. The edges of the light are soft, not sharp, which is nice for generally lighting an area. Once on, the light starts at its 5 lumen Low mode. Twist further to reach its high mode, which puts out an impressive 130 lumens out to 54 meters. Low mode usage will get you about 7 hours of runtime, while the High mode runs for about 20 minutes. That's well-suited for general close range work you'd want out of a keychain light.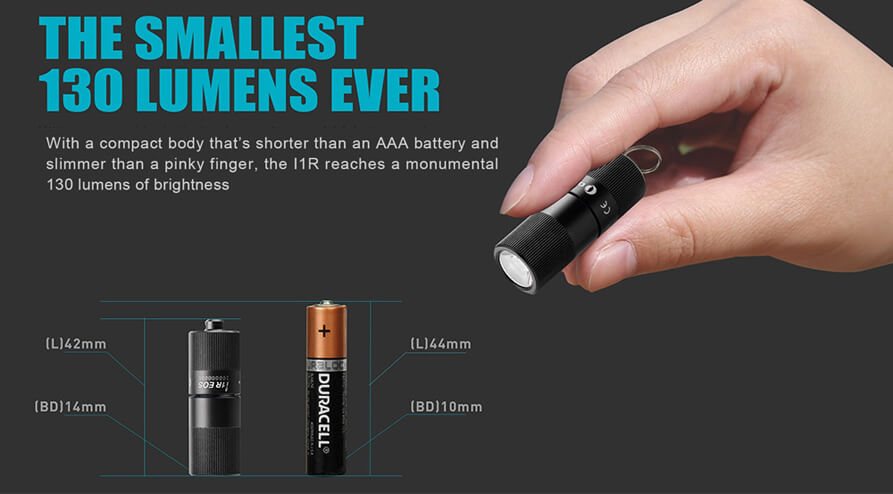 Modes and UI
The I1R EOS light has two modes. They are LOW and HIGH. There is no strobe/SOS mode. The LOW is 5 lumens and the HIGH is 130 lumens. With the springloaded brass button, changing modes is very easy and smooth.
The light has a very simple 2-stage twist interface. UI of this small light is great for keychain or pocket because of its ease of operation. Switching ON and OFF is done by twisting the head of the light. Twisting the tail clockwise will activate the LOW mode and twisting further clockwise will activate the HIGH mode. Loosen the head to reverse back to LOW, continue to loosen to OFF.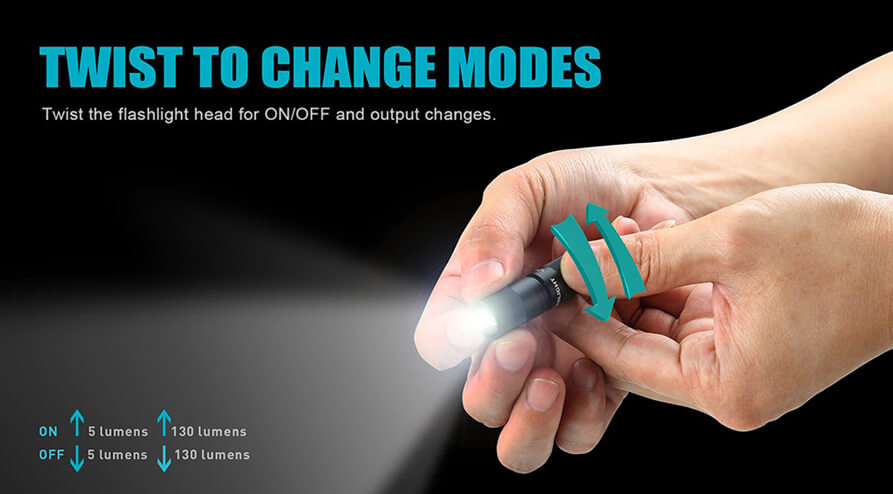 Battery and Charging
The light is equipped with a built in rechargeable 80mAh 3.7V Li-ion Battery. It is rechargeable through a built-in Micro-USB charging port. Fully charge takes within 1 hour and 15 minutes.
To sum up, olight i1r eos is an ideal EDC flashlight for everyday carry because of its tiny body. It will be a great backup light and perfect for backpacking and camping. The Olight I1r EOS keychain light works great as a backup EDC flashlight. You should pick one up and try it on for its size.
Related Products>>> 
Olight M1T Raider EDC Flashlight