Today smartwatches have become very helpful gadgets for everyday usage. It plays an important role in an individual's schedule. So buying a smartwatch with good performance is necessary for our daily life. If you think of the best smartwatches on the market, Lenevo may be one of the names you can find. Recently Lenevo has released their newest product that is called Lenovo Watch X Smartwatch. More advancd features make it stand out on the market. Let's see more details about it and what its highlight is.
Design and Display
The Lenovo Watch X is the first of this kind of product with a sapphire glass mirror at its front. It is accompanied by a 1.5-inch OLED display and totally transparent and clear, making it one of the most attractive display in so many smartwtaches. Its body is grey and there is a round dial and a steel strap. The woven stainless steel can be gently wrapped around the wrist. Thanks to its magnetism, the Milanese strap can be adjusted to ensure that is fits our hand better. This smartwatch has a stainless steel chassis, which is durable and can protect it from wear and tear. Overall, Lenovo Watch X looks pretty attractive and classic. 
Features
Advanced Sensors: Lenevo Watch X has six professional build-in sensors that measure air pressure, heart rate, and even blood pressure, By scanning heart rate and blood pressure through the skin, the Watch X can precisely track your physical conditions in real time. The Lenovo Watch X also comes with some of the most common functions like pedometer, sedentary reminder, sleep monitor, alarm and reminder.
Long Battery Life: The Watch X is equipped with electromechanical integration structure and has a 600mAh battery which can stand by for 45 days with normal use. So you don't have to frequently charging it.
Sync Sports Data: This smartwatch can not only display the time and date, but also display steps, distance and calories clearly. Besides, When bluetooth connected to your smartphone, you can sync your exercise data to the Android phone and iOS phones. It gives you a real-time assessment of your exercise throughout the day.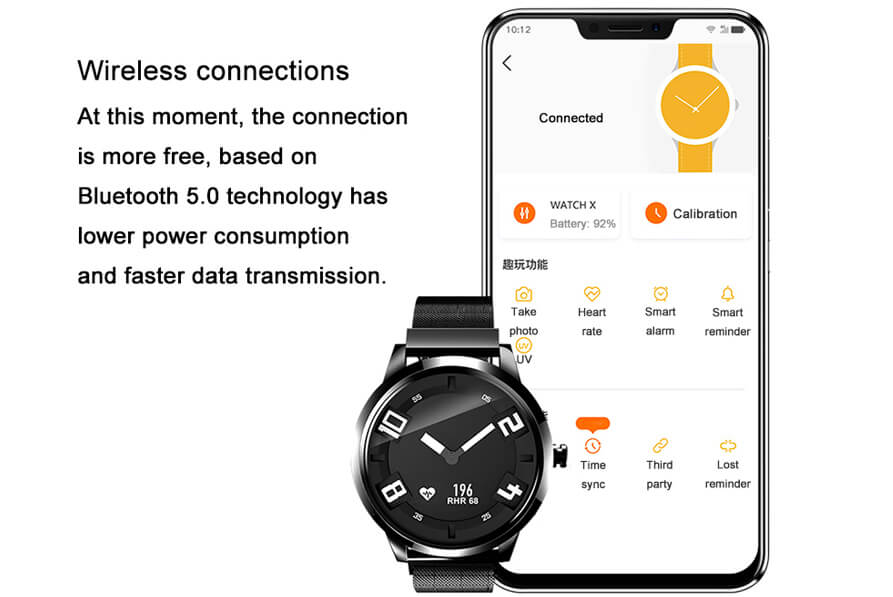 Waterproof Rating: Withe 8ATM water resistant, the Watch X is water resistant up to 80 meters. That means you don't need to take off your watch while washing hands, taking shower, surfing, even 80 meters water depth can be free to play.
Bluetooth V5.0 Connectivity: The smartwatch has bluetooth version 5.0, which is more free in connections. You can through the device connects to the smartphone.
Gestures Camera: The brand-new watch has added the gestures camera function, that is tailored for those who love taking pictures. You can enter the watch APP camera interface, and shoot the picture with a short press on the watch or a shake of the wrist.
To sum up, lenovo watch x is a powerful smartwatch that has many advanced functions, that's why it has gathered a considerable number of fans since its realese. Actually, with the classic design and excellent performance, Watch X may be the best choice as a smartwatch on the market today. You will surprise a lot once you own it.