There are a wide range of smartphones choices for people all over the world, and more and more people want to buy an affordable and rugged smartphone. Today we are introducing this type of smartphone, that is Cubot King Kong. Affordable and rugged, that is exactly how this phone presents itself. This king kong smartphone is waterproof, shockproof and dustproof with its comprehensive protection, which ensures more durable use. Next let's check out this interesting device.
Design and Display
What is the first thing you notice when you pick up a smartphone? It's build and weight. The phone weighs in at almost a quarter of a kilogram and it's thickness goes over a centimetr. This phone has twenty one screws, two of which you need to unscrew in order to reach the microSD and SIM slots. On the back of the phone, Cubot put textured pads to prevent the phone slipping out of hand. A classic jack plug fits together with the Micro-USB connector under a rubber plug at the top. With an optimum display size of 5 inches and a resolution of 1280 x 720 IPS display, Cubot King Kong looks pretty much decent. In terms of the 5.0 inch hard screen, that is very amazing. The 5.0 inch hard screen not only offers you a superior watching experience also could withstand violent crash, rolling and torsion. What's more, this display processes a surprising number of points of contact simultaneously. A total of 10 touches can be detected, which is very unusual for this price range for both outdoor and normal smartphones. The King Kong smartphone is also protected by Corning Gorilla glass which is definitely an added protection to the phone's display. Overall, this phone is designed with good build quality that can protect itself perfectly.
Hardware and Software
The King Kong works at a high speed and lower power consumption with MT6580 Quad-Core 1.3Ghz processor that can up to 1.3GHz CPU. This average processor is quite sufficient for a rugged smartphone. 2GB RAM provides an enough space for multiple apps work simultaneously. 16GB ROM expansion storage could store your pictures, video, songs and so on. Another exciting aspect of the King Kong phone is latest Android 7.0 operating system, which is sufficiently up-to-date for this price range. The Android 7.0 is highly improved by adding more humanized functions. It allows users enjoy some inherent benefits and features by reducing the software and improving the system response speed. Besides, This OS has used a new UI design, making multitasking and multi-window view much smoother.
Battery life
King Kong packs a 4000mAh big battery. The capacity of the phone is twice of the ordinary smartphones. Those who buy rugged phones usually use them in outdoors, so they may not have access to charging the phone frequently. Then Cubot solved this problem with this 4000mAh non- removable battery. No matter you are going for outdoor activities, business trips or playing a long time game with this smartphone, it will always offer you stable and long duration time.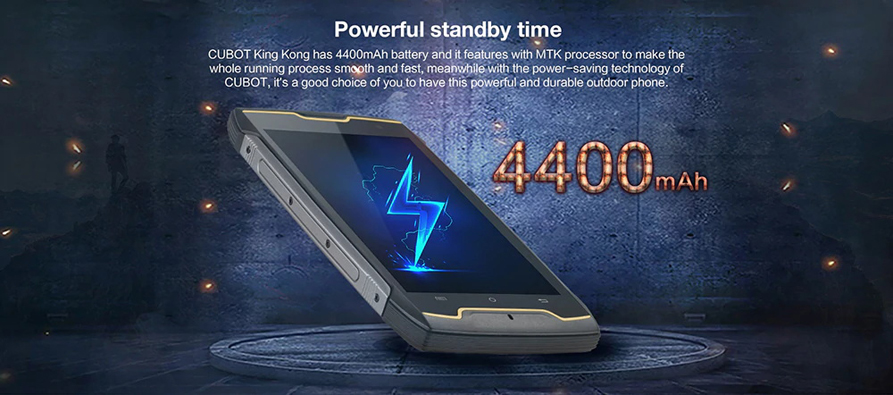 Camera
The Cubot King Kong comes with single camera both on the front and at the back. The rear camera has 8 megapixels and the front camera 5 megapixels and has a LED flash support. The rear camera can accurately capture picture with vivid clarity and sharp details. and the front camera makes every selfie lovely. As a outdoor phone, the performance of the camera is still decent for the price.
Waterproof and Dustproof
By meeting the highest waterproof rating standard IP68, the device is waterproof and dustproof. Fitting the temperature ranges from -35℃ to 60℃, it could work in all geographical environments such as desert, highland, swamp. So don't worry any scratching and accidental drops.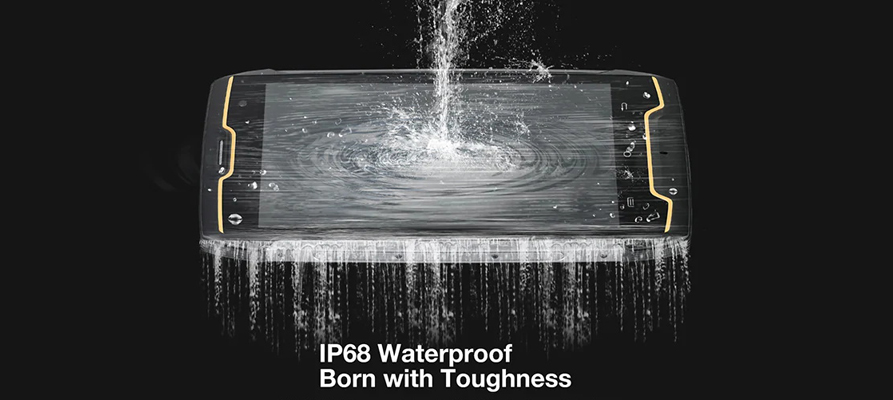 Conclusion
In conclusion, the cubot king kong smartphone is really a good choice when it comes to rugged smartphones. And it is one of the cheapest rugged smartphones with all the premium features in the market today. No matter in working, entertainment and daily life, it can be a reliable phone for long term use. If the king kong phone is the thing that you are looking for, then go right ahead and go for it at Gearvita.