Chuwi, a Chinese company that specializes in manufacturing tablets, has released its new 2 in 1 tablet — Chuwi Hi10 Air. This is another cost-effective product from Chuwi, which has gathered many attention of tablet users. Next let's come to the point and take a closer look at this new Chuwi device.
Chuwi Hi10 Air has a very slim body and adopts an unibody design, which is pretty solid and elegant. With the compact size, Hi10 Air is perfect for keeping in a backpack or a briefcase. The case of this tablet is made of anodized aluminum. The build quality is good and feels nice in the hands. On the front side of the device, there is a 10.1 inch IPS LCD display with a resolution of 1920 x 1200 pixels. It also provides an aspect ratio of 16:10. To protect against scratches and bumps, the screen is covered with tempered glass. Besides, the Chuwi Hi10 Air is equipped with the OGS full lamination technology that can reduce the air refraction, making the picture in the screen more vivid. The combination of IPS display and OGS technology will offer you an amazing experience when watching videos and browsing. Overall, the tablet is good-looking and has good build quality.
The Chuwi Hi10 Air is power by Intel Cherry Trail X5 Z8350 Quad Core max up to 1.92GHz. And the Intel HD Gen8 GPU up to 500MHz is for handling its graphics. Thanks to the advanced CPU and GPU, Hi10 Air runs smooth with excellent performance and fast processing speed. In terms of memory, the device comes with 4GB of RAM and 64GB of storage memory, which can be expanded with a TF card up to 128GB. The Hi10 Air is pre-loaded with Windows 10, the Edge browser, as well as cortana, which can also give you more efficient using experience.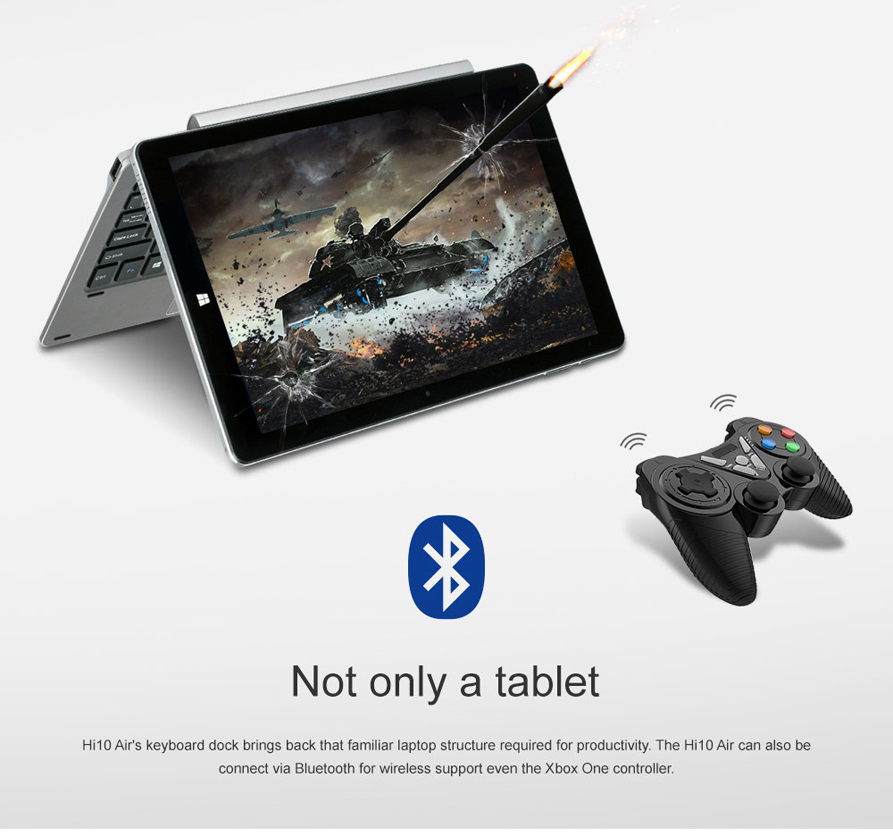 In the camera department, the Chuwi Hi10 Air is equipped with a 2.0MP front camera and 2.0MP rear camera. Coming to battery life, the device has a 6500mAh battery that can offer 4-6 hours for hard tasks, according to Chuwi. What's more, this tablet supports stereo modes that can produce high-quality sound, providing the immersive experience. And it is worth mentioning that the device support keyboard and stylus, so it can easily turn into a laptop.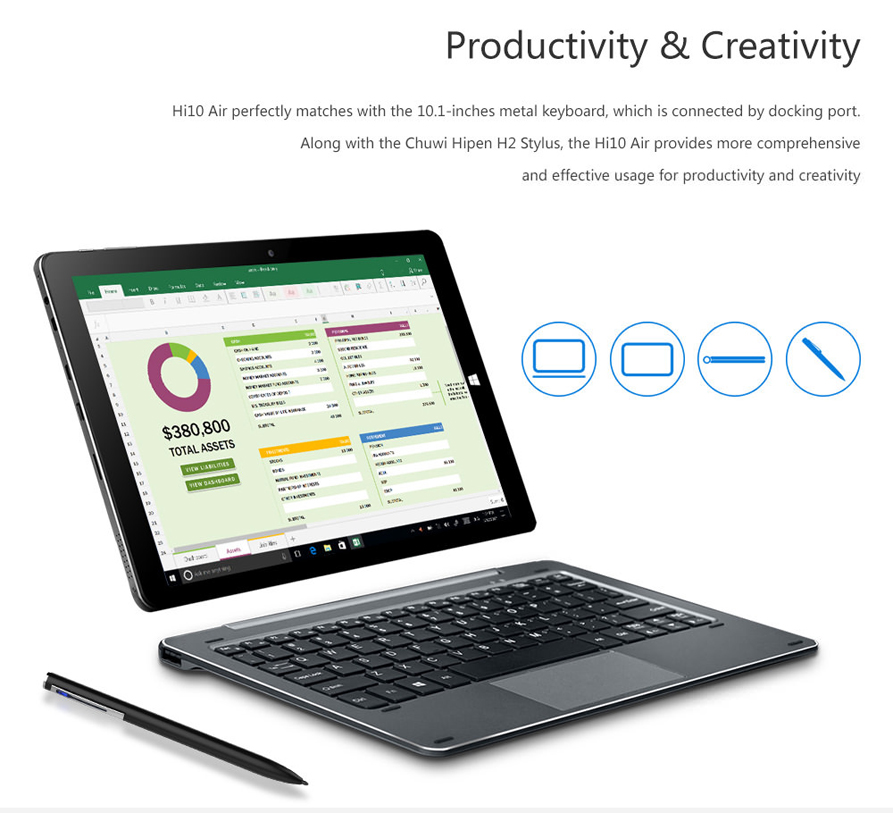 In conclusion, the Chuwi Hi10 Air 2 in 1 Tablet is really feature-packed with powerful configuration and outstanding performance. It is portable with the compact size, then you can carry it around. The device has many other highlights that really surprised us a lot, including long battery life, fast running speed and good sound quality. So if you are looking for a new tablet, the Chuwi Hi10 Air can be a good choice. You can easily buy it at Gearvita.